World's top 10 "most valuable" beverage brands
Interbrand applauded Coke's "impressive global presence through standout ad campaigns, bold design, digital savvy and a simple, universally relevant theme that weaves throughout the brand's communications".
Coca-Cola was named Creative Marketer of the Year at the 2013 Cannes Lions festival and its global, music-driven 'Move to the Beat' campaign dominated 2012 marketing around the London Olympics.
The 'Share a Coke' campaign saw consumer names printed on bottles and cans and a successful 'Unlock the 007 in You' stunt cross-promoted the Skyfall movie release in the UK.
"Coca-Cola's innovation pipeline also extends to its sustainability platform and packaging, promoting healthy living, and reinventing self-serve beverage dispensers with the Freestyle dispenser," Interbrand said.
2. Pepsi – ranked 22
Pepsi – $17.892bn, +8% * – is progressing with its 'reset effort' that involves a stronger overall focus on the consumer experience, according to Interbrand, which notes that the brand's first chief design officer, Mauro Porcini, is driving appeal and eliciting consumer interest via innovation and design.
"Delivering a holistic expression of its brand and continuing to engage millions…through music and digital platforms, Pepsi is making a comeback," Interbrand said.
According to Interbrand, "positive and proactive" responses to a challenged cola category include the brand's new single-serve bottle for Pepsi – the first design update since 1996 – and a nod to calorific concerns with the launch of Pepsi NEXT.
Pepsi also won the 2012 Stockholm Industry Water Award for cutting water consumption.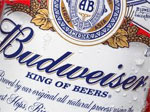 3. Budweiser – ranked 31
Aggressive overseas expansion underpins Budweiser's global success story (+6%, $12.614bn *) with distribution in around 90 countries, notable launches in Brazil and Russia and a focus on China.
Beer is a notoriously local product, so despite spending $1.4bn on Chinese breweries in the last two years, Budweiser (owned by AB InBev) is yet to gain significant share. While Interbrand sees the premium 'Black Crown' line extension launch as a "bold move to leverage the brand's rich history", it says the jury is out on Budweiser's ambition for global domination, particular in China, but adds that the brand's leadership team is "clearly not resting on its laurels"


4. Nescafe – ranked 37
Nescafé (-4%, $10.651bn *) continues to invest in products such as Dolce Gusto and Nescafé Milano that target the fast-growing single-cup coffee segment, investing heavily in the UK and Germany to build European infrastructure for Dolce Gusto.
Despite this success in Europe, Interbrand notes that Dolce Gusto has struggled to gain traction in the US, adding that it is too early to assess whether Milano has been a global success or not.
"Achieving profitability in its last fiscal year, coupled with double-digit top-line growth, the strength of the brand has been clearly demonstranked," Interbrand concludes.
5. Sprite – ranked 69
Sprite UK's 'Rediscover Sprite' campaign – to support a new formulation with stevia and one third fewer calories – shows responsiveness to consumer concerns over high sugar levels in sodas.
In the US a 27-year NBA deal continues to associate the brand with basketball.
"Its new global campaign, 'Obey You', encourages teens to follow their personal truths, forging connections to the brand perception of fun and youthfulness, but also follows the controversial strategy of targeting a younger demographic," Interbrand writes.
The Sprite brand grew solidly in 2012 and remains the No 1 soda brand in China, but the brand (+2%, %5.811bn *) has to tweak its global strategy further to properly address health and marketing concerns, says Interbrand.
6. Johnnie Walker – ranked 82
Interbrand salutes Johnnie Walker (+10%, $4.745bn *) for "another exceptional year", with 15% net sales growth in 2012 and a 28% rise in sales of premium spirits via the success of new Blue Label packaging in North America and a digital media ad campaign enabling custom bottle engraving.
"Despite ongoing global expansion, Johnnie Walker continues to develop award-winning advertising and design, while maintaining visual consistency and its premium, quality positioning in the market," Interbrand says.
7. Starbucks – ranked 91
Synonymous with coffee, but now venturing well beyond its original coffee shop model, Starbucks invested $100m this year in San Francisco chain, La Boulange, and paid $620m for the Teavana chain in November 2012; it also launched K-Cup teas and coffees to take on Nestlé's Nespresso.
516 new stores in Asia Pacific over the past year, and revenues up 22%, show that the firm's strategy to grow its Asian footprint "appears to be paying off", according to Interbrand.
Nonetheless, Starbucks (+8%, $4.399bn *) is under pressure in the UK over payment of corporate taxes, and Interbrand says it remains to be seen if this will have any long-term brand impact.
8. Heineken – ranked 92
Celebrating its 140th birthday this year, Heineken (+10%, $4.331bn *) successfully reinvigoranked itself this year with the new Star bottle, while the beer outperformed the international premium segment as a whole with 5.3% organic growth in 2012.
Its Express campaign saw James Bond clutch a Heineken onscreen for the first time ever, while the brand boosted its global visibility by securing a majority holding in Singapore brewer Asia Pacific Breweries, buying 40% more shares for $4.6bn.
"Strong growth and messaging strategies are clearly paying off for Heineken," Interbrand concludes.
9. Corona Extra – ranked 93
Consistent messaging means that Corona Extra (+5%, $4.276bn *) is now the top-selling imported premium beer in the US and is present in 15 countries spanning Asia, Africa and Oceania, while AB InBev's $20.1bn purchase of the shares it didn't own in Grupo Modelo only adds to its financial firepower.
The Taylor Steele-directed video, 'On Mexico Time – From Where You'd Rather Be' saw a shift in the brand's global positioning as it works to conquer international markets, Interbrand notes.
10. Smirnoff – ranked 95
Smirnoff (+5%, $4.262bn *) dates back to the 1800s and must play on its heritage story while keeping pace with "seemingly endless upstarts" in the vodka category, according to Interbrand. Interbrand says it remains to be seen whether a creative and marketing shake-up in 2013 will bear fruit, but promotional vehicles this year such as VH1's Smirnoff Master of the Mix reality show have been successful.
Innovation remains critical to the Smirnoff brand, according to parent Diageo, and new global launch variations include Honey and Coconut (Australia), Kissed Caramel and Iced Cake (US), with vodka promoted as an experience and not just as a base for drinks.
"With fresh creative thinking in the works, the Smirnoff brand must continue to grow and deliver to stay ahead of the increasingly competitive vodka market," Interbrand says.
* Increase in brand value & net value of present earnings

Additional reading:
Apple usurps Google as world's most valuable brand
Tags: Budweiser, Coca-Cola, Corona Extra, Heineken, Interbrand, Johnnie Walker, most valuable beverage brands, Nescafé, pepsi, Smirnoff, Sprite, Starbucks
Trackback from your site.