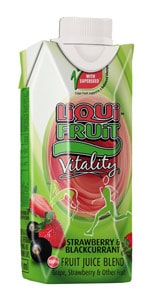 Liqui-Fruit Vitality launches a new, resealable 330ml Tetra Prisma pack
The DreamCap26 is one of the latest innovations fromTetra Pak and was developed after thorough research with a focus on consumer habits and needs. It was created to match parameters such as easy to open and close, comfortable and convenient to drink from and the design won a Scanstar award in 2012 at the Scanpack fair in Gothenburg, Sweden.
"As South Africa's leading and most innovative fruit juice brand, it made perfect sense to introduce Liqui-Fruit Vitality in a new 330ml carton pack size with an ergonomically designed re-sealable cap for on- the- go consumption", says Liqui-Fruit brand manager, Karen Veysey. "The new pack format is not only ideal for Vitality's active target market but will appeal to consumers seeking functional beverages", says Veysey.
Liqui-Fruit Vitality juices offer a unique range of flavours and ingredients. The juices are made from super fruit with added Superseed, Liqui-Fruit's trademarked name for an antioxidant grape seed extract. They are preservative free and high in Vitamins A, C and E. The flavours include Red Grape & Pomegranate, Strawberry & Blackcurrant and Blueberry & Blackcurrant.
The new 300ml packs join the existing 200ml pack which is ideal for lunch boxes, and the one-litre at-home pack. To coincide with the launch of the 330ml pack, the whole range is sporting a fresh new look designed by Stellenbosch based agency, Just Design. They have a 12 month shelf life.
The new 330ml Tetra Prisma pack will retail for approximately R 9.49 and will be available at all leading supermarkets and convenience stores countrywide from April 2013.
Tags: beverage packaging, Ceres, fruit juice, functional beverages, Liqui-Fruit, Pioneer Foods, Tetra Pak Prisma
Trackback from your site.