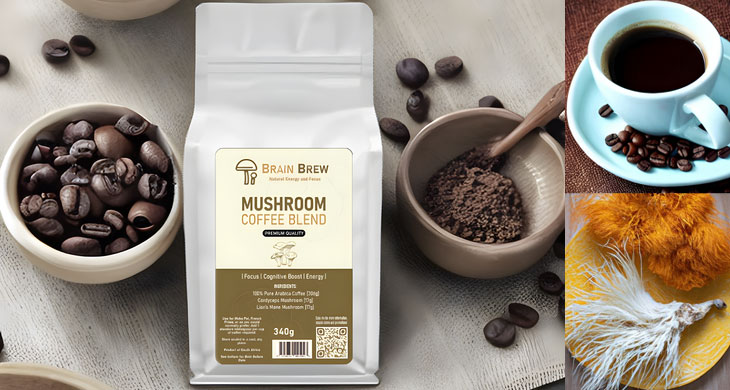 26 Jun 2023

Brain Brew – SA's debut coffee-mushroom blend

With the galloping interest in functional drinks, Cape Town start-up, Brain Brew, has launched an on-trend new 'functional fungi' beverage – a mushroom-infused coffee blend aptly dubbed Brain Brew.

"This innovative coffee blend combines the rich flavours of premium coffee beans with the remarkable health benefits of medicinal mushrooms, delivering a unique and invigorating experience for coffee enthusiasts seeking an elevated morning ritual," goes the info sent to DRINKStuff SA by founder Rian Bosman.

"We're very excited about this ground-breaking product that transcends ordinary coffee – our mission is to offer a coffee experience that not only satisfies the taste buds but also supports overall wellbeing" he says.

"Brain Brew Mushroom-Infused Coffee is a fusion of carefully selected coffee beans and the power of Lion's Mane and Cordyceps mushrooms to create a harmonious blend that not only tantalises the taste buds but also nourishes both the body and mind."

Brain Brew claims to offer a range of benefits, notably enhanced cognitive function, providing improved focus, mental clarity, and sustained energy without the "notorious crash associated with regular coffee consumption".

"Lion's Mane and Cordyceps mushrooms have long been revered for their medicinal properties, and we saw an opportunity to harness their potential in the world of coffee," says Bosman.

"Lion's Mane mushrooms, known for their neuroprotective properties, are known to contribute to enhanced brain health, aiding in improved cognitive function and promoting a balanced mood. Cordyceps mushrooms, on the other hand, offer sustainable energy without the crash, providing a natural and long-lasting boost," he adds.

"Moreover, the antioxidant-rich nature of both Lion's Mane and Cordyceps mushrooms supports a healthy immune system and protects against oxidative stress.

"This unique blend of ingredients creates a beverage that is not only enjoyable but also delivers a range of health benefits, making it the perfect choice for those seeking a functional and delicious coffee experience," Bosman concludes.

Each Brain Brew batch is carefully roasted, allowing the flavours of the premium coffee beans to shine while complementing the earthy undertones of the medicinal mushrooms. The result is a smooth and well-balanced cup of coffee that satisfies both the palate and the desire for a healthy lifestyle.

A limited-time launch promotion is available exclusively on the website: see more at brainbrew.co.za.
Background to the 'shroom boom'
The 'shroom boom continues to echo across the food industry, and the beverage category is no exception. While functional fungi are now a well-established ingredient in coffees, powders, and shots, their use in the ready-to-drink (RTD) energy category is just starting to gain momentum.
"This mushroom trend isn't really a trend at all but has been a vital ingredient in varying cultures for thousands of years," Addison Blakeney, marketing manager at Garden of Flavor, told The Food Institute. "A natural supplement to help the body adjust to oxidative stress and fight off cancer causing free radicals, adding mushrooms into things like coffees and powders has become a no-brainer."
Scott Frohman, founder & CEO of Odyssey Wellness, echoed this sentiment, adding that the use of functional mushrooms like Lion's Mane, Cordyceps, and Reishi have seen a sharp increase in popularity over the past few years — a trend that shows no sign of slowing.
"In a post-pandemic world, consumers are increasingly seeking out ingredients that support both the body and mind, which has caused awareness and adoption of these fungi to skyrocket," Frohman told The Food Institute. "The functional mushroom category is currently valued at $22.3bn with a projected CAGR of 9.5% by 2032."
The Food Institute: Read the full article here