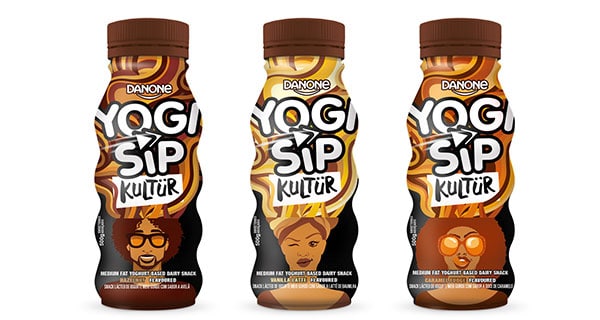 Yogi Sip launches new Kultür range designed for the new generation
Yogi Sip has been a staple of South African culture for 25 years. However, for the children who grew up with the iconic drinking yoghurt, Yogi Sip was yet another element of their youth they were at risk of out-growing. Until now!
Danone's Yogi Sip recently launched a new indulgence range called Kultür, designed for young adults, with more grown-up tastes – as evidenced in its flavour variants: Mojito, Strawberry Daiquiri, Hazelnut, Caramel Fudge and Vanilla Latte.
Award-winning, London-based brand design agency, This Way Up, created the brand identity and packaging design for the new range.
"The new design has a more mature feel to it," says Chris White, CEO & founding partner, This Way Up. "We've focused on the more grown-up, indulgent flavour cues, whilst still drawing on the brand's sense of fun and creativity through the series of dynamic illustrations on pack.
"As a brand Yogi Sip has a strong focus on youth culture and 'supporting their creativity and dreams'. Kultür is a range made with indulgent flavours designed to 'blow your mind' and foster that creative spirit."
Says Tumi Mmope, senior brand manager Danone: "The purpose of the Kultür range is to engage with our youth and immerse the brand with the generation of today, who are now carving their own path. With Kultür we hope to be recognised as a youth brand for South Africa."
Source: Danone, This Way Up