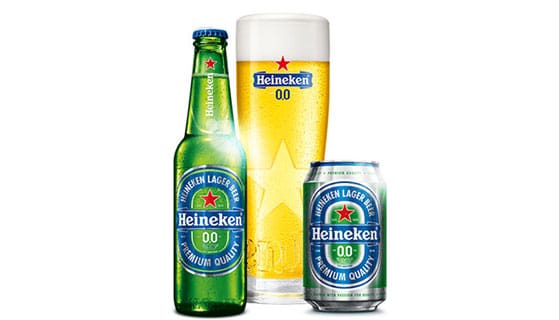 31 Jul 2019

Why Heineken and Budweiser are killing it with zero-alcohol beer

The beer giants have a new burgeoning market: Consumers who don't drink alcohol.

Consumer demand for low-and-no-alcohol brews is booming, making it one of the fastest growing segments of the $600-billion global beer market. Sales of non-alcoholic beer is expected to surpass $25-billion by 2024, according to research firm Global Market Insights.

Heineken was the latest to drive home the point. This week the Dutch brewing giant reported disappointing first-half 2019 earnings, sending shares down more than 5%. But one area of hope was its low and non-alcoholic beer business, which grew by nearly 10%.

The world's second largest brewer, which also counts Tiger, Soland Birra Moretti in its beer portfolio, has been advertising heavily the debut of Heineken 0.0 in the US [and South Africa].

The 69-calorie brew is now available in more than 30 markets around the world, and selling well virtually everywhere it's been introduced. Heineken 0.0 is made with water, malted barley and hop extract.It then ferments before the alcohol is released in a natural process.

As Fortune reported last month, Heineken is focusing on low- and no-alcohol beers to reach a younger demographic. The company's own research says that nearly 30% of 21-to-25-year-olds haven't had a beer in the past month.

The world's largest beermaker, Anheuser-Busch InBev, must have similar data. This week it launched Budweiser 0.0 in India, part of a larger corporate push at shifting consumer behaviours to weaker beverages and reduce "the harmful use of alcohol" globally.
"Ensure no- or lower-alcohol beer products represent at least 20% of AB InBev's global beer volume by the end of 2025."
AB InBev calls the initiative its Global Smart Drinking Goals. Goal No 3 reveals one of its top business priorities in the coming years: "Ensure no- or lower-alcohol beer products represent at least 20% of AB InBev's global beer volume by the end of 2025."
The push into non-alcoholic beers comes as the traditional beer market fizzes and global growth stalls. In recent years, the world's biggest beermakers went on a spending spree, buying up craft brewers, hoping to tap into the promising market for potent, hop-forward IPAs and to entice that market of discerning millennial drinkers.
During this wave, Heineken bought stakes in Lagunitas, one of Americas' best-known craft-beer brewers, and Brixton Brewery of London, to name a few. AB InBev, meanwhile, now has 35 craft brands, many through outright acquisition or investment in such names as Goose Island and Wicked Weed Brewing.
The craft-brew business is growing well for the beer giants. AB InBev said its craft and specialty brands business segment grew 18% last year. In contrast, the strategy for non-alcoholic beers appears to be more organic with new entries coming out of the company's product development labs.
The non-alcoholic beers sector has come a long way from the early days of O'Douls and Beck's Blue. In a sign of how — dare we say — cool the market has gotten, Esquire reviewed twelve "not-bad" non-alcoholic beers, giving brands from BrewDog and Paulaner, high marks. About Heineken 0.0, Esquire editors said, "it's not nearly as good as these other specialty beers, but it's not terrible, either."
Source: Fortune.com