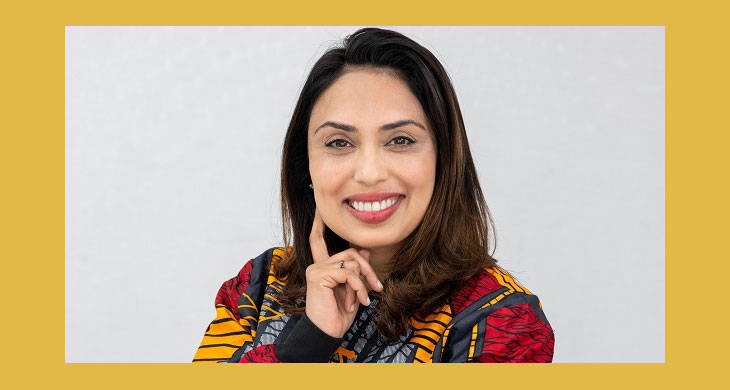 20 Mar 2023

Talking change with Distell's marketing director, Natasha Maharaj

"I grew up in a household where alcohol was misused. So, I was very aware that I had a tension point with alcohol myself," says Natasha Maharaj, marketing director at Distell, home of leading alcohol brands such as Hunters, Savanna, Klipdrift, Amarula and a host of others.

That tension point has helped shift Distell's marketing tone to one that is much more aligned with a modern zeitgeist focused on health, wellness and a shift to responsible drinking.

It's also helped reinvigorate Distell's brand portfolio and seen a shift in how light alcohol and alcohol-free brands are marketed in its portfolio.

"What's kept me in the industry and why I'm so excited about it is because I've realised that we can find balance in moderation, and people and societies can live in harmony with alcohol," continues Maharaj. "It's about making sure that it's part of a full, balanced lifestyle. But it's been a journey for me."

Major organisational change is about to arrive at Distell, however. In November 2021, Heineken announced its intention of merging its South African operation with Distell and Namibia Breweries, and, on 9 March 2023, the deal was finally approved by competition authorities.

This will, in the words of Dolf van den Brink, Heineken CEO, "…bring together three strong businesses to create a regional beverage champion, with a unique multicategory offer to better serve consumers, customers and create shared societal value across southern Africa."

The transaction is expected to be implemented from April, with Heineken as the majority shareholder. The Dutch multinational brewing company is investing approximately €2.4bn, in return for a 65% shareholding.
Savanna sees double-digit growth
In terms of the portfolio Maharaj's been responsible for, Savanna has enjoyed a standout performance, she says, enjoying double-digit growth.
The premium cider brand has always been trusted and well-regarded but she and her team wanted it to hone in on what makes South Africans tick: "Savanna was always known for its dry, witty sense of humour but we took it a little bit further in terms of really understanding what are the cultural insights that are happening and starting to be in conversation with consumers.
"So, the campaigns that we've put out in the last three years… focused on really understanding where the pulse of the nation was, and putting a little bit of tongue-in-cheek in there."
During the height of the covid-19 pandemic, Savanna launched the virtual comedy bar, one of the few paying gigs comedians could access during a period marked by lockdowns and closed entertainment venues.
"During that period, they [comedians] weren't earning, you know. There's more than just a brand. It's a brand with purpose. It's a brand uplifting through humour. It's a brand that understands South Africans' wry sense of humour and really taps into that to bring a little smile to the day…"
Savanna, she says, makes her proud because it's been giving back to the country and its comedians.
Turning around Hunters
Hunters is another brand that's been turned around — Maharaj says it was in decline when she joined the company in March 2018, due to a loss of relevance. "It was a wonderful brand that was well-established and well-loved. But the rules change."
When new competitors came in, consumers evolved and changed, she says, but Hunters still clung to the old recipe of what made it famous originally.
According to her, Hunters had really had an innovative brand culture at the start; it was the first mainstream cider brand in a country that drank beer, helping create a new category in the market.
Maharaj and her team looked at that pioneering spirit and tried to reinfuse the brand with just that, focusing its campaign on innovation. "We had to get back to that tonality, which was also different from Savanna. Savanna is about uplifting a nation but Hunters is about this innovative pioneering spirit that's cool and refreshing.
"We are back in growth on Hunters," she adds. "We also have started to talk in a different way to consumers and… I'm proud of that because we see it starting to also gain consumer love again."
A career spanning three Fortune 500 companies
Maharaj has been in the industry for 20 years, having started out, as many South African marketers do, at Unilever. She eventually moved on to Nestlé, where she served as marketing manager in Johannesburg before working her way up to global marketing manager (Asia Pacific) food; innovation & renovation manager R&D based out of Singapore.
Still at Nestlé, she moved to Switzerland as global marketing manager: food on secondment. She returned to South Africa as Nestlé's customer accounts manager for Shoprite before joining PepsiCo and eventually becoming marketing director for the Snacks division in southern Africa.
Nestlé brought home the business side of marketing, she says, and the privilege to work in markets outside of SA. It allowed her to gain insight into global markets, both emerging and developed, and exposed her to innovation thinking and cultural nuances. At Pepsico, her experience combined communication and innovation within a single portfolio.
When asked how she got into marketing, a fascination with psychology and understanding human truths is her answer. For her, marketing is about understanding the psychology of people — human truths and an understanding of the tension points that drives them.
Influencing change as a career objective
What attracted Maharaj to Distell? At the time that she joined the organisation five years ago, it was undergoing a radical transformation in structure, both in the way that it marketed and in the leaders it was looking to bring on board. It was on a journey to become progressive, and that appealed to her, she says.
The brands are also phenomenal, such as Hunters and Savanna — well-known, -trusted brands and widely loved brands in SA.
"I think the ability to be myself, to be a change agent in something that was moving and progressing — because a lot of times, when you go into big organisations, they pretty much put you on a set trajectory, so you can influence but [only] up to a point — whereas I had the ability to really transform and to change something, which was very exciting. So, I think a combination of the people, the brands and the ability to actually create change was quite exciting for me," she explains.
She initially started as global brand head for liqueurs before becoming marketing director for Distell SA's business unit portfolio and experiential marketing. It was quite a shift from the consumer product goods she used to work on, she admits, not just in terms of the market and how alcohol brands communicate (legislation) but adding in issues such as responsible marketing regarding alcohol consumption and in creating lifestyle marketing in a way that emphasises moderation but still connects with South Africans.
"I think that's where Savanna has done such an amazing job in really tapping into the mood of the nation, understanding what's driving a nation and starting to be in conversation with the nation," she says. "I always look to Nando's and others that have done it so well, and have found that that essence and insight that works with the nation is quite a wonderful thing."….
MarkLives.com: Read the full article here