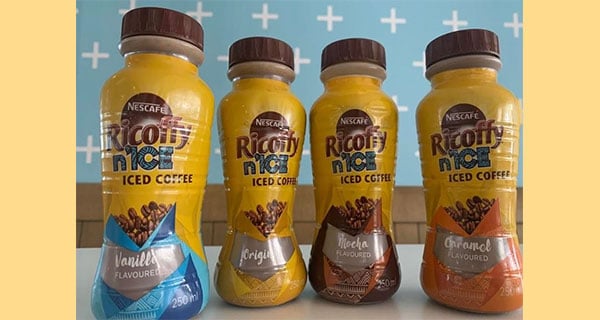 Ricoffy moves into RTD format
In time for summer, Nestlé South Africa has launched a new Ricoffy n'ICE iced coffee range in South Africa.
While your local barista may scoff, Nescafé Ricoffy remains by far the most popular brand of coffee in the country. It accounts for six out of ten cups of coffee consumed in the country, according to the brand's owner Nestlé.
The range comes in 250ml bottles and in four flavours: original, vanilla, caramel and mocha.
The iced coffee is quite sweet: 8.3g per 100ml serving, a recipe, according to a Nescafe's representative, that reflects the fact that the average South African consumer enjoys a sweet, milky cup of coffee.
The iced coffees retail for around R18.
Taste test
Business Insider SA rounded up a group of tasters, which included a couple of coffee snobs, for a blind tasting of the new product.
Only one participant guessed that it was Ricoffy, although a couple of others thought that it must be an instant coffee brand.
Overall the reception was positive – the majority of tasters scored it above a seven out of ten.
While most reported that the drink was the right amount of creamy, it also has a strong, dark colour with a solid caffeine kick.
While sweet, there were no complaints that it was too sugary. It also didn't have any unpleasant aftertaste.
Source: Nestle, Business Insider SA
Tags: coffee RTD drinks, Nestlé, Ricoffy