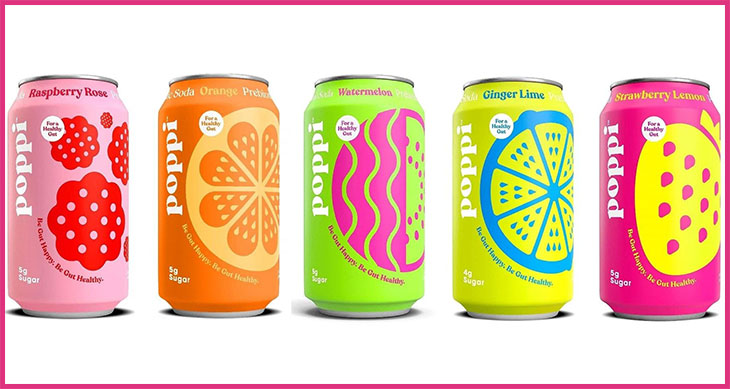 14 Aug 2023

Poppi – how a drinks start-up is building its social capital with Gen Z

Many brands just 'don't get the Gen Z crowd', but they are their future customers….. an excellent article by SA's futurist/trend meister, Jon Cherry.

Everybody now knows that drinking too many sugary drinks is not great for your health.

The movement away from blindly consuming sugar and junk food in general (at least in developed markets) kinda started with the 2004 Morgan Spurlock film Super Size Me.

Watching Mr Spurlock gorge himself on nothing but McDonalds meals and visibly suffering the health consequences was a shocking demonstration of the dangers of highly-processed food.

In the aftermath of that documentary there was a notable increase in the number of new diet theories and ideologies that have emerged, grouping 'believers' into powerful consumer communities.

Vegan, Paleo, Keto, LCHF are all now recognised movements with their own eating guidelines, recipes, preferred ingredients and outspoken proponents.

Apple cider vinegar is one of these magical ingredients that seemingly cure an exhaustive list of ailments, but swallowing a diluted measure of the stuff daily is not as enjoyable as slurping down an ice cold Coca Cola.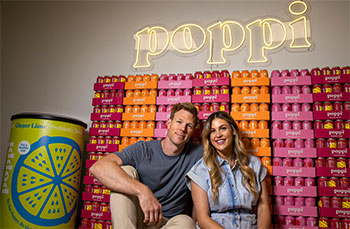 Solving this palatable problem is the intention of a range of fast-growing soft drinks called Poppi. Husband and wife team, Allison and Stephen Ellsworth, were experimenting in their home kitchen in Texas, combining fresh fruit juice with the prebiotic powerhouse apple cider vinegar (ACV), to create a soda that tasted amazing and provided real health benefits.
The drink was initially sold at farmer's markets and built up a strong following.
It's all in the packaging (the ignition key to the brand's growth)
Pre-2018 the soft drink was called 'Mother' (a name that couldn't be successfully trademarked) and was packaged in a plain glass bottle with no remarkable iconography.
Nothing about the old product stands out – the typography is pretty random, the choice of bottle makes it look cheap. In a word…it's terrible.
The founders took the product onto the TV-show Shark Tank and it was thankfully suggested, by the person who eventually invested in the company, that the name and the packaging was in need of a serious revamp.
The old Mother Hubbard look clearly wasn't going to get the business to its full potential.
In 2020 the drinks range was renamed Poppi, got a branding make-over that appealed to a Gen Z target market…and the business took off.
How about picking a fight with Coca Cola?
Unlike Coca Cola – Poppi is pitched as a gut-friendly, prebiotic, healthy soft drink alternative that is made with minimal ingredients; typically the liquid is made using natural flavours and far less sugar per can. By all accounts it is the antithesis of Coke.
The brand is positioned to specifically appeal to younger, health-conscious consumers. Colours are bright, slogans are silly, young celebrities and influencers are in love with it and the #1 social media channel it uses is TikTok.
BevNet reports: "One Friday night in January, around 10 pm, Poppi co-founder Allison Ellsworth was sitting in her Texas home when the inspiration struck her to record a quick impromptu video for her brand's TikTok profile.
"She quickly discussed the prebiotic soda company's founding story and its game changing appearance on Shark Tank. As Ellsworth tells it, she spoke briefly but honestly, tying the brand's journey to her own.
"The next morning, the video was already a viral hit and by Sunday the company had sold over $75,000 worth of product on Amazon. As of December 2021, the video had over 17.5 million views and 475,000 comments from consumers.
"Poppi was able to use its initial success to populate its email contact list, going from next to no subscribers in December 2020 to over 200,000 in months, but the company has not slowed down its social media marketing. The brand has posted to TikTok over 100 times since (on occasion striking the right nerve and getting over 1 million views) and Ellsworth remains the main star and face of the company."
The 'Poppi world' presented in its promotional material looks like an 'alternate utopian universe' – where the people are healthy and the drinks are always tasty and make you feel good.
Build a community on TikTok – yes, it's working well for small brands
Most of Poppi's SMS and email signups come from their relentless promotional efforts on TikTok.
Digiday reports that: "The Poppi team has a community manager who oversees social copy on Instagram as well as in-house TikTok creation, posting to the brand account up to several times per day.
"In addition to working with influencers, Ellsworth (the founder) herself will post explainer videos on everything from how the drink improves gut health to what each flavor tastes like. Other times, Poppi's TikTok videos stem from what's trending on the app, like the 'Jerk' dance move."
The brand is a content-generating machine. Social media posts are done multiple times per day, while the dedicated community manager engages directly with fans on all of their channels…consistently.
Now the brand has chosen to invest marketing spend in a comprehensive 360- degree campaign (#sodasback) consisting of Amazon programmatic ads as well as more traditional, ATL approaches; like billboards (gasp).
Gen Z are coming
Younger (Gen Z if you will) consumers are different. They're sceptical of big business, they're non-committal, they're irreverent and can be seen by some older people as being somewhat flippant in their attitudes and worldviews.
Building brands that appeal to this generation of consumers doesn't work with the same old marketing strategy playbook.
Brands needs to be far more authentically engaging to win them over. What's needed in the approach is creativity; gutsy ideas, a welcoming community and a strong idealistic mission.
Just a good product doesn't cut it; it needs to be a complete, immersive marketing experience.
Many brands just 'don't get the Gen Z crowd', but they are the future customer. Either you get to understand them better, or your competitors will do it for you.
Source: Cherryflava.com