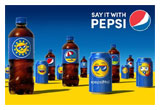 PepsiMojis global campaign connects retail, digital marketing with younger audience
The campaign includes all trademark Pepsi products, including Diet Pepsi and Pepsi Max, and some emojis are specially tailored to suit local markets.
With increasing engagement top of mind for PepsiCo as soda sales wane, it has taken a cue from its chief rival Coca-Cola, which launched its own personalised packaging campaign, Share a Coke, featuring first names and sayings on product labels, in Australia in 2011.
Coca-Cola brought the campaign to the US for the past two summers, expanding the number of names used from 250 in 2014 to 1 000 last year. For this past holiday season, Coca-Cola released festive packaging with holiday-themed names and sayings like "Mrs Claus" and "Someone Nice."
Emojis are, of course, mostly confined to the digital world. PepsiCo says that more than two billion smartphone users globally send six billion emojis daily.
Like Coca-Cola, PepsiCo is appealing to the millennial and younger generations with this campaign, encouraging younger consumers to feature products in photos and updates shared on social media to drive engagement and awareness.
PepsiCo plans to support the emojis campaign with not just digital and traditional advertising but also other millennial-friendly efforts like PepsiMoji-inspired sunglasses made in collaboration with fashion designer, Jeremy Scott.
Adage.com: Read more here
Trackback from your site.