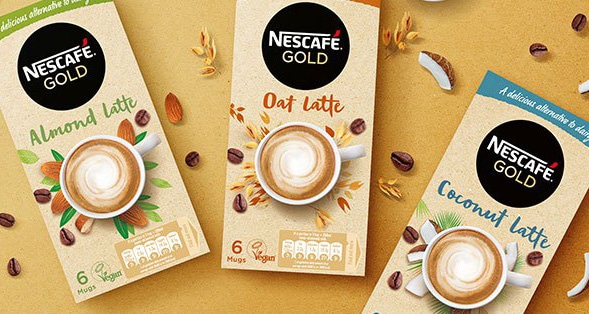 On-trend Nestlé launches plant-based coffee lattes
Nestlé has launched a range of Nescafé Gold lattes crafted with plant-based ingredients, claimed as the first-ever non-dairy soluble coffee lattes and certified by the Vegan Society.
The new premium Nescafé Gold non-dairy lattes are made with almond, oat and coconut, blended with 100% Arabica coffee beans to create smooth and creamy coffees.
Products are initially launched in the UK and Ireland before being rolled out in several markets across Asia, Europe, Latin America and Oceania.
David Rennie, head of Beverages Strategic Business Unit, Nestlé SA, said, "We are delighted to bring new coffee experiences with the launch of our premium Nescafé Gold non-dairy lattes. Our iconic Nescafé brand continues to lead and embrace new coffee trends with this innovation".
A UK colleague, Neil Stephens, head of the Nescafé business in the UK and Ireland, had this to say: "Our new Nescafé Gold frothy coffees bring the plant-based latte trend out of the coffee shop and into the home, and the three flavours are vegan-friendly.
"We are quick to spot and embrace fast-moving coffee trends and tastes in this highly competitive and innovative market. Our new plant-based vegan latte mixes will bring new sensory experiences to our consumers."
Coffee is one of Nestlé's high-growth categories, with the company investing in various new coffee products.
Last month, the Nescafé Azera brand launched teabag-style roast and ground coffee bags in the UK and Ireland. This launch represented a £1.5-million ($1.9-million) marketing investment in the Nescafé brand.
Meanwhile, Nestlé and Starbucks are bringing refrigerated creamers to US consumers less than a year after the partnership was formed.
"We're seeing this launch as an opportunity to bring new users into the creamer category, such as people who frequent a Starbucks café but are currently using creams or milks to whiten their coffee in-home," said Daniel Jhung, President of Beverage, Nestlé USA told FoodIngredientsFirst.
These moves came after Nestlé's 2018 full-year results were released, where Nestlé CEO Mark Schneider noted in a press conference that the company is positioning itself towards "future areas such as plant-based offerings that are very much on-trend with where consumers are heading."
One of the most significant results of the plant-based boom has been the strong rise in dairy alternatives.
There has been a 17% average annual growth in dairy-free products (Global, CAGR 2013-2017) of these products, which include dairy-alternative drinks and spoonable non-dairy yogurt.
Between 2013 and 2017, soy continued to be the top ingredient for plant-based dairy alternative drinks; however, market penetration is decreasing. Almonds and oats also show strong growth over the years, with a CAGR of 39% and 36%, respectively (2013-2017).
Another type of plant-based milk that could be coming to the market soon is one derived from water lentils.
Parabel USA says that its lentil milk is similar in color to regular milk and captures the high-quality protein and mineral benefits of water lentils while containing no allergens.
Source: www.nestle.com; FoodIngredientsFirst.com
Tags: coffee innovation, coffee trends, high-growth categories, Nestlé