New SA oat milk brand ticks all the on-trend buttons
Well-known, Capetonian brand-builder, Rui Esteves [from Brewers & Union] fame, has launched a new oat milk, OKJA Oat M*lk – in a funky, stylish way that taps deeply into the plant-based trend trajectory.
"Plant-based milk is nothing new. Look around and you'll see many. Look more closely, and you'll discover that some of them are better than others," Esteves says.
"You'll see ingredients you don't recognise, can't pronounce or need to Google. It's usually cheaper and easier to add that kind of stuff, but it's just not our vibe.
"In our oat milk, the only ingredient which you may not have in your own kitchen is the calcium. You won't need a Master's Degree in Chemistry to understand what you're drinking here.
"Our rich, creamy m*lk is great for adding to your cereal, perfect for blending with superfoods in smoothies and amazing for dunking your chocolate chip cookies into. My favourite is to foam it up for silky flat-whites in the morning or for fluffy hot chocolates in the evening." Source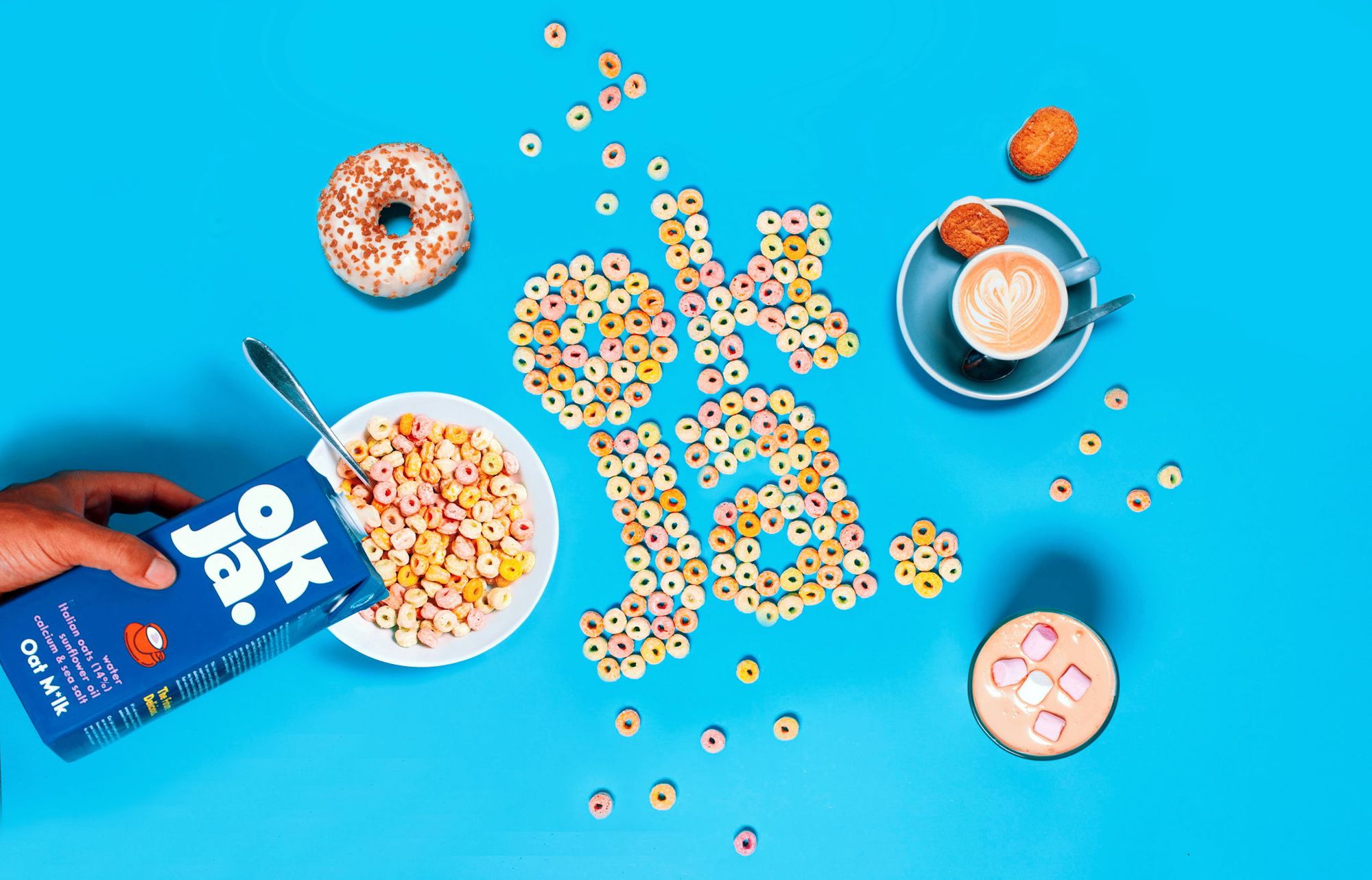 OKJA ingredients, via its website:
Oats: It's O-A-T milk, right? So we tried to pack in as much as possible at 14%. That means a richer, creamier mouthfeel and a denser foam for your latte.
Sunflower Oil: We use a very small amount of unrefined, cold-pressed sunflower oil as a natural emulsifier. It keeps the water and oats blended together to help us achieve such a smooth, creamy texture. We use so little in fact, that per 100ml, we have less than a gram of fat in our m*lk.
Calcium: The calcium we add serves two purposes. Besides being an essential mineral for the human body, it's also conveniently alkaline and helps us make sure that the acidity of your coffee won't curdle that foamy m*lk in your flat white.
Sea Salt: Just a pinch to balance out the natural sweetness of the oats.
Comments SA trend/futurist, Jonathan Cherry:
"Packaging and brand overall looks fresh, playful and inviting. The tongue-in-cheek tone will strike a nice cord with the flat-white set.
"People are searching for alternatives to big capitalism, corporate brands and products that are made to scale – not necessity with your best personal interests at heart. So we like the growing trend of entrepreneurs getting into the food business; it's an industry begging for a shake up."
The new milk has been quickly adopted by the Vida E Caffè chain, with this announcement: "We're very excited to announce the launch of Okja oat m*lk into select vida stores from mid-December 2019. Okja is rich and creamy, creating a delectable foam for silky flat-whites, frothy cappuccinos or anywhere else that luscious plant-based foam is required."
Pronouncing the name
"'okja' – it's a name that you can pronounce in any way you're comfortable," says the Okja website.
"Officially, it's supposed to sound like 'OAK-JAH' but heck, it's totally OK with us if you say it like 'OK, JA'."
Related reading:
How a Swedish oat milk brand went ballistic in the US