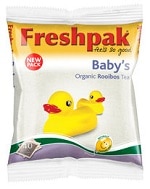 New packaging for Freshpak health and baby teas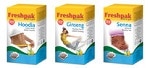 The cylinder packaging for the Wellness Teas has been replaced with much cheaper carton packaging. This brings the recommended retail price down a whopping ten rand, from R24.99 to R13.99, says the company. The bold, vibrant colours of the new packaging, it adds, also improves on shelf impact.
The trio of Freshpak Wellness Teas are marketed as combining "the health benefits of rooibos with additional natural supplements to create teas that combat common health issues: Ginseng for increased energy, Hoodia for staying in shape and Senna to assist with digestion".
The Baby Tea's cylinder packaging has been replaced with a stay-fresh foil pouch. The new pack contains 40 teabags compared to the 20 offered in the cylinder bringing the price down by an equally significant R12, from R23.99 to R10.79, for double the quantity.
Freshpak Baby's Organic rooibos tea is suitable for babies from six months, and it is naturally caffeine free and rich in antioxidants.
"The health benefits of rooibos tea have long been championed. With Freshpak's new, more affordable packaging, these benefits are now accessible to a wider audience," states the company.
Tags: anti-oxidants, baby tea, Caffeine-free, Freshpack wellness teas, Freshpak, Ginseng, Hoodia, packaging, rooibos tea, Senna, wellness
Trackback from your site.