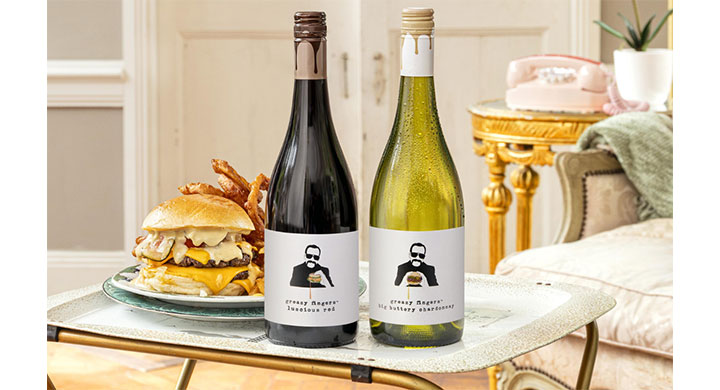 15 Nov 2023

Demystifying wine choices

Pernod Ricard is targeting food lovers in the UK with new wine brand Greasy Fingers – an interesting take on making wine drinking more accessible.

The Greasy Fingers range aims to challenge "traditional boundaries of wine and food pairings" and is targeted at younger craft beer and wine drinkers with "a high frequency of ordering gourmet fast food at home", Pernod Ricard says.

"These consumers like to try new products, tell others about their new finds and are willing to trade up for something exciting", it adds.

Two variants – a Luscious Red made from shiraz and grenache, and a Big Buttery Chardonnay – are initially available.

The Luscious Red offered "luscious cherry and strawberry flavours" and "soft, approachable tannins", according to Pernod Ricard. The Big Buttery Chardonnay, meanwhile, boasted "refreshing flavours of peach, vanilla and cinnamon spice" and "a buttery mouthfeel". [The wine provenance is not stated].

Both have rolled into Sainsbury's, Asda, and Morrisons stores, with Amazon and Ocado launches to follow later this year (rsp: £10/75cl).
The wine category was "ripe for disruption", according to Lucy Bearman, wine and champagne portfolio director at Pernod Ricard UK.
"Greasy Fingers goes back to the heartland of wine by pairing it with food in a way that breaks the traditional conventions of the category," she says. "We believe passionately in a wine and food match made in heaven, but it doesn't need to come with a white tablecloth and a qualification.
"This simple yet hugely effective pairing is about whipping up some burgers for friends to eat together at the weekend or indulging in a mid-week takeaway and putting your feet up, whilst enjoying a bold and unpretentious glass of wine. We want to show consumers that wine can be enjoyed, however you fancy."
Alongside Greasy Fingers, Pernod Ricard's UK wine portfolio includes the Campo Viejo, Brancott Estate and Stoneleigh brands.
Greasy Fingers will complement these brands, offering "a disruptive proposition" that could "re-engage and recruit a young adult shopper" at a time when the number of wine drinkers under the age of 34 was falling, Pernod Ricard notes.
Source: Pernod Ricard