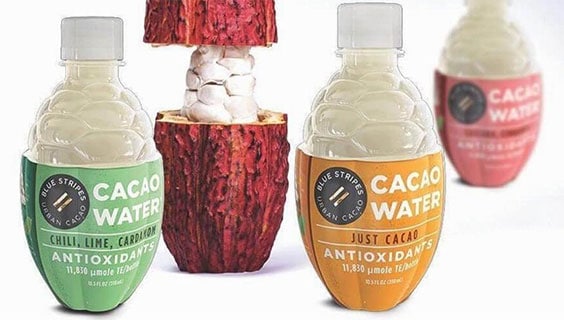 29 Jun 2022

Cacao water – a multi-crowned super beverage?

It's time to think beyond the chocolate bar to learn everything the cacao plant has to offer.

Through processing, the chocolate industry wastes up to 70 percent of the cacao plant? What if there was a way to use some of the other parts of the cacao plant and benefit both farmers and the environment?

What's more, how about consuming this formerly discarded by-product that offers some serious health benefits.

Meet cacao water, the antioxidant-packed beverage that's poised to become a wellness and sustainability trend – and for good reason.

US producer, Blue Stripes, founded by chocolatier master, Oded Brenner, is the first to market with this innovative product.

It recently unleashed a broad line of cacao-based products made from underutilised and wasted parts of the cacao fruit to Whole Foods stores nationwide and and is about to launch its star product – cacao water – which, Brenner says, has the potential to eclipse coconut water in popularity and with a stronger sustainability story.

Brenner launched Blue Stripes, a café in Union Square in New York City, selling cacao-based beverages and foods including cacao fruit leather and chocolate enhanced with cacao flour.

The idea was to build an all-day consumption image around cacao and eventually become the "Starbucks of cacao," said Brenner.

But that vision was quickly diminished when the COVID-19 global pandemic hit and shut down much of the food service industry.

Brenner quickly pivoted to retail and put all his efforts into creating a full line of FMCG cacao products with 15 SKUs including cacao granola, trail mix, fruit smoothies, chocolate bars, and cacao water (launching in July 2022).

The line was picked up by small, independent, and specialty retailers in 2021, but this year is when the brand really ramped up distribution, said Brenner.

The brand found success with Whole Foods, which brought on eight SKUs for a nationwide launch in May 2022, and will be adding cacao water in July 2022 and the brand's cacao bars in September 2022.

"Whole Foods with their visionary buying process said they were interested in this whole story of upcycling the cacao,​" said Brenner, who added the the brand is also partnering with DTC retailer Thrive Market on a co-branding project in 2023.
The next coconut water?
Blue Stripes uses a cold pressure process that extracts the juice from the pulp of the cacao fruit to make its cacao water creating hazy water that is both refreshing and palatable, said Brenner.
"The unique thing with cacao and the cacao fruit, is that it's not an acquired taste. It's very easy for kids to drink as well as grownups," said Brenner, who likens the flavour profile to the sweet and sour taste of lemonade with a hint of vanilla – providing a blank canvas for other flavours to shine through such as Blue Stripes' chili lime and passion fruit flavour varieties.
And on top of the broad flavour appeal, cacao water packs a nutritional and hydration punch (electrolytes magnesium and potassium) and is rich in antioxidants, noted Brenner.
It's an excellent replacement for sugary sports drinks after a hard workout or on a hot day.
According to the company, one 10.5 ounce bottle of cacao water has an ORAC (Oxygen Radical Absorbance Capacity – an invitro method used to measure the antioxidant capacity of foods) – of 11,830/100g (blueberries have an ORAC value of 4,669).
It's also rich in theobromine and contains 4-5g of dietary fibre per serving.
Combining a palatable flavour profile, attractive nutritional properties, and that history shows consumers have embraced unknown superfoods before, Brenner believes that cacao water could one day be as big as coconut water, which has dominated the plant water category for years.
"Most of us never heard about açaí or kombucha before they became popular and cacao is an incredibly healthy, unbelievable superfood.
"I think two to three years from now, we'll see way more companies doing cacao fruit beverages," said Brenner, who said the biggest challenge is educating the market on cacao fruit and all of its benefits not only in the area of nutrition but from a sustainability standpoint.
Brenner explained that Blue Stripes has the potential to transform an industry which has been plagued with issues such as pollution from unused cacao waste and worker welfare. By buying the entire cacao fruit from farmers in Ecuador today, Blue Stripes can nearly triple their income.
"I'm just buying from the farmer what he is already growing anyway and that's an inherently sustainable business model,"​ he added.
Source: BeverageDaily.com; RealSimple.com