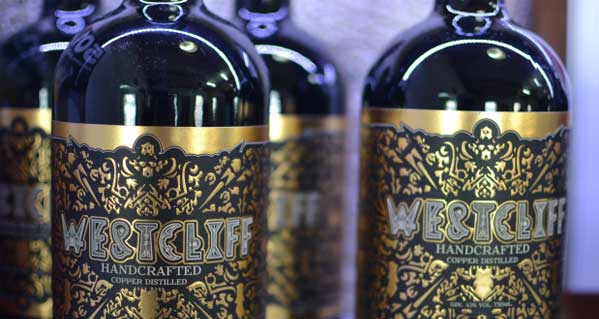 15 Nov 2017

Award-winning and beautiful SA craft gins

SA has a host of world-class craft gin producers, and this year, for the first time, they could submit their products to a panel of local and globally-acclaimed spirits experts at the Michelangelo International Wine & Spirits Awards.

In addition, The South African Craft Distillers' Association sponsored four trophies to reinforce its commitment to the cause by awarding medals to deserving gin, rum and vodka entries.

Westcliff Gin (above) won Best in Class as the highest-scoring craft gin at the recent awards ceremony in Cape Town.

Craft distiller supremo and brand owner, Jacqueline Grobler, however, started her career as an interior and jewellery designer, working and studying in London.

Six years ago, Jacqueline and her partner began experimenting with distilling at home, purely as a hobby. They sourced ingredients, for smell and taste, and distilled them individually to test their suitability for inclusion in their first product, Angel Heart Liqueur (www.ahbev.com).

The business soon grew from a home kitchen into a distillery and has now been running for the past two years.

Like a distiller of old, Jacqueline focuses on sourcing local ingredients and regularly engages with traders and sangomas at Faraday Muti Market in downtown Johannesburg to discover a host of natural (and sometimes 'supernatural') ingredients.

The stunning Westcliff Gin bottles are imported from Spain and Poland and 'smoked' in South Africa.

Using Cape Town-based Michal Shachman's stunning design work, the labels are printed by a variety of companies from SA Litho to Canadian suppliers. 
More success
Angel Heart's success at the recent Michelangelo Awards didn't stop at Westcliff Gin.
Ginifer Barrel aged Chilli also won gold, while Ginifer Original, Angel Heart Liqueur and the recently-launched African Venom Moonshine – made from locally-grown corn and grain- based vodka – all won silver.
Grobler describes Ginifer Johannesburg Dry Gin as a modern, smooth, small batch gin featuring a combination of traditional gin botanicals and plant medicine used by sangomas, a combination that results in a peppery, full-flavoured gin, with a cardamom tone.
As befits a dry gin inspired by the vibrant energy of the City of Gold, the symbology on the bottle represents Johannesburg's diverse cultures and languages.
Angel Heart uses the same base to produce Ginifer Barrel aged Chilli, but adds an 18-month oak-aged chilli essence to the gin just before bottling. Locally-grown cayenne chillis ensure it's a gentle rather than explosive taste.
Angel Heart's handcrafted gins, vodka and liqueurs are sold locally online and through retail chains and major bottle stores. They are also available on a limited basis internationally in Belgium, China and Mauritius.
Packaging is sourced from local and global suppliers. Ginifer's bottles are decorated in Spain by esteemed glass supplier Estall, while the remainder of bottles are made in China by a French company.
The black corrugated boxes are ex Rockwood and Sunnypacks, while Cape Town-based African Cork supplies the cork closures and neck capsules. The 50ml Ginifer bottle is decorated by Bottle Printers.
See all the Michaelangelo Awards 2017 results here
Source: Clive's Column, PACKAGiNG & Print Media magazine, October 2017 issue