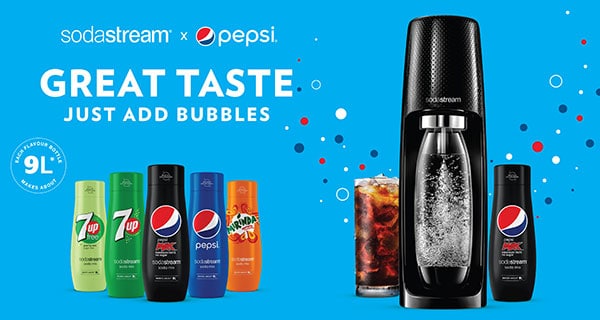 26 Sep 2021

You can now make your own Pepsi, 7UP and Miranda at home

Staying hydrated in the SA summer just got hyped with the launch of five new Pepsi flavours for Sodastream – all the great Pepsi taste; just add bubbles.

Consumers can now use their SodaStream to create some favourite soft drinks at home: Pepsi, Pepsi Max, 7UP, 7Up Free and Mirinda.

"We're bubbling with excitement about this collaboration that brings together some of the most powerful brands in the beverage industry, giving SodaStream users, and Pepsi, Mirinda and 7Up fans alike a new way to quench their thirst with the same great taste they know and love,"  says Jacqui Carnelley, GM South Africa at SodaStream International.

PepsiCo has announced new goals (September 2021) to cut virgin plastic per serving by 50% across its global food & beverage portfolio by 2030, using 50% recycled content in its plastic packaging and scaling the SodaStream business globally.

"We are continuing to scale new business models that require little or no single-use packaging, including the global SodaStream business – an icon of a Positive Choice and the largest sparkling water brand in the world by volume," adds Carnelley.

SodaStream, already sold in more than 40 countries, is bringing PepsiCo flavour options like Pepsi Zero Sugar, Lipton and bubly to 23 markets, while its new SodaStream Professional platform will expand into functional beverages and reach more than 10 additional markets by the end of 2022, part of the brand's effort to help consumers avoid more than 200 billion plastic bottles by 2030.
Life with SodaStream
For anyone growing up in the 70s and 80s, a SodaStream was the aspirational peak of kitchen gadgets, proudly displayed on every counter.
The new Sodastream machines are designed to take back their place of pride on the patio table with a beautiful stylish simplicity.
Better for you; better for the planet:
Transform ordinary tap water into sparkling water in seconds; by making ordinary tap water fun and exciting to drink, SodaStream helps you drink more water – 43% more according to research.
Instant gratification and living life on-demand is easy when SodaStream delivers your favourite flavours at the touch of a button.
Convenience is king; you can make the perfect sparkling drink for YOUR taste buds in the comfort of your home.
Great taste with a wide range of exciting flavours; and you can play with your own mixes.
Save your cash; Sodastream is real value for money at only R3.33 per litre of sparkling water and each bottle can be used to make nine litres.
Not only are you saving money, you're also saving the environment; one SodaStream bottle replaces 5 070 bottles (an average family over three years). Every SodaStream bottle works toward eliminating thousands of single-use plastic bottles and keeps our planet healthier and cleaner for everyone.
SodaStream products are available in more than 70 000 retail stores across 45 countries.
About SodaStream
SodaStream, part of PepsiCo, is the world's leading sparkling water-maker brand. SodaStream enables consumers to enjoy endless good bubbles at home, without hassle, and help save the planet. SodaStream bubbles are better for the consumer – healthy, easy to make, light to carry – and better for the planet – replacing up to thousands of single-use plastic bottles with one reusable SodaStream bottle.
Source: PepsiCo/SodaStream