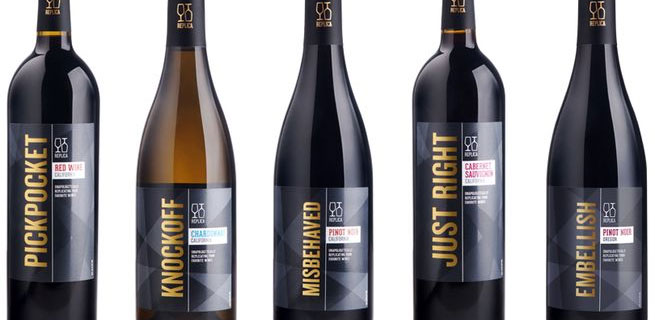 Vino without veritas: A US company is pioneering top-notch fake wine
Replica Wine makes cheaper copies of favourite American wines by analysing their chemistry. Often, even professional critics can't tell the difference. Is this heresy or just smart business?
Ari Walker started out in business in wine distribution. Several jobs later, he and business partner, Kevin Hicks who'd made a small fortune in IT, realised their efforts in tracking down and marketing unusual wines from viticultural regions around Italy were going nowhere.
The wines had singular flavours and compelling stories. But the vast majority of American wine drinkers, they had come to understand, have little interest in those stories. They want wine that tastes good and doesn't cost much.
So Walker and Hicks created a cheap brand that could be sold at volume to subsidise the imports, but that didn't work, either. There were too many in the market already, all trying to solve the same problem with a mediocre product.
"The question we tried to answer was, how do we make these generic wines better?" Walker says. "We looked at all sorts of stuff but had a hard time moving the needle."
The breakthrough started with baby food. In 2012, Hicks was about to become a father. He started wondering what, exactly, was in the organic, premium-priced products that he and his wife were planning to feed their newborn, so he sent samples off for laboratory analysis.
When the bills — as much as $1,500 for a single sample — started to add up, Hicks created a lab of his own, which he dubbed Ellipse Analytics. He had a bigger plan.
He invested several million dollars in equipment and hired a team of scientists and technicians and before long, Ellipse had enticed paying clients to commission chemical breakdowns of entire consumer categories, like protein powders and sunscreens.
Walker (below) saw the potential for wine, and he pushed Hicks to use his technology for their own business.
Like anything else, wine is a combination of chemicals. Ellipse can test for some 500 different attributes and measure the results at the parts-per-billion level.
Hidden in that data, Walker realised, were the precise combinations of esters and acids and proteins and anthocyanins and other polyphenols that make a wine taste creamy or flinty, or give it aromas of blueberries or vanilla or old leather — the chemical compositions of America's most popular wines.
Walker also knew that most wine gets a boost from additives such as Mega Purple (for colour), oak extract (for tannins and flavouring), and similar chemistry-set concoctions.
Using cheap surplus wines readily available on the bulk market and blending in natural additives, he thought, it might be possible to make some pretty convincing copies of popular premium wines.
Hiding in plain sight
In 2015, Walker and Hicks started Integrated Beverage Group and set out to duplicate wines that they knew Americans already liked. They planned to do this in plain sight, naming their brand Replica and urging consumers to compare their products with well-known names that usually cost as much as double the price.
It didn't take long before they realised that, in most cases, even professional critics couldn't distinguish their facsimiles from the originals.
Two years after IBG was started, Replica wines are sold in 49 states (everywhere but Iowa), in major retailers such as Publix in the south and Winco in the west.
Because of the substantial investments needed to build the lab and start the brand, the company isn't yet profitable. But by other metrics, its concept has been a remarkable success.
With certain red wines, which are easier to replicate than whites, IBG has come within a few percentage points of matching the components at a parts-per-billion level. That includes a whole lot of attributes that a wine drinker will never detect.
What's more crucial is nailing the handful of attributes that define the wine for the casual drinker, those points of difference that deviate from the norm.
It's like Alec Baldwin playing Donald Trump on Saturday Night Live. When you see him on the screen, scowling and doing that little turn of his wrist, you're not fooled into thinking that's really Trump. It obviously isn't. But it's equally obvious whom he's imitating.
Walker and the IBG team try to do the same with wine. If they can hit the most blatant elements of a popular bottling using inexpensive bulk wine and a bunch of additives, they'll be in business.
Some perceive this as undermining those ineffable elements that make wine different from, say, toothpaste.
In a full-page feature, the Santa Rosa Press-Democrat, a newspaper based in Sonoma County that is perceived as the voice of the California wine industry, characterised Replica's products as "Frankenstein wines." "While Replica wine doesn't begin in a petri dish," it said, "it is created, to a large degree, in a lab."
This doesn't trouble Walker. "You could say it's weird," Walker says of IBG's process. "Or you could say it's our point of difference."
Over the past four years, Ellipse has analysed thousands of wines, a formidable chunk of the American marketplace. More than anyone else, it is safe to say, the IBG team can scientifically define what the most popular wines taste like.
"Only we, uniquely, have this data to say, 'If you like Goldeneye, we know exactly why you like Goldeneye,'" Walker says about a California Pinot Noir that IBG will soon be trying to replicate. "And we know what else you're likely to like. And what you won't."
IBG can't replicate every wine. Those with singular attributes, like wines made from grapes grown in a specific vineyard or from a hard-to-find variety, are far more difficult, bordering on impossible, for the simple reason that all of IBG's wines start with those surplus lots being sold on the bulk market.
But the world's most popular wines — from Kendall-Jackson Chardonnay to Dom Perignon — are made hundreds of thousands of bottles at a time, enough volume that their grapes are sourced from a range of vineyards.
"The reason K-J is so successful," Hicks says about Kendall-Jackson, "is that it tastes consistent, year after year, bottling after bottling. You know what you're going to get, like Coca-Cola or Campbell's soup."
If Kendall-Jackson is using what seems like a fairly exact recipe to make each vintage of its wines, Hicks figures, there's no reason that IBG, with its reams of scientific data, can't match it.
In a sense, the wines made at a premium boutique winery are no more authentic than Replica's.
Even the finest wines exist as the sum of hundreds of decisions in the vineyard and the winery, each designed to help steer the wine — or manipulate it — in a desired direction.
Imbibers have no idea whether the former's oenologists typically acidify their wines to freshen them in warm vintages or add tannins to help balance soft fruit flavours, but plenty of wineries do — such additions are perfectly legal.
It's also within the rules in California to blend in as much as 15 percent of wine from a different vintage than the one on the label, and different grape varieties, and even grapes from somewhere else entirely.
And that doesn't even get into other standard practices of winemaking, such as jump-starting fermentation with commercial yeasts and reducing alcohol levels by sending the wine through a contraption called a spinning cone column.
None of these figure in the romantic narrative of letting nature make the wine. But if they make the wine we're drinking tonight taste better, few of us would argue against them.
Related reading:
Can science build a fake wine that's just as good as the real thing?
A new business called Replica Wines claims to produce "master forgeries" of well-known wines, deploying a throng of chemical instruments and a huge flavour database to blend near-identical versions of the wines from different grapes.
Ava Winery, meanwhile, takes a different approach, bypassing grapes entirely, and going straight for the molecules — combining flavour chemicals with ethanol and water to reproduce the experience of wine, without replicating the process….
Trackback from your site.