US: Three gourmet coffee trends for 2019
According to the National Coffee Association (NCA), the percentage of Americans drinking coffee every day has risen from 57% to 62% over the past year.The key factors that may boost the coffee consumption in the US are:
The rise in interest with gourmet coffee varieties.
The increase in past-day coffee drinking among younger consumers.
The media attention about the positive impact of coffee consumption on health published in th journal Annals of Internal Medicine in a recent past (drinking more coffee could significantly improve a person's life expectancy).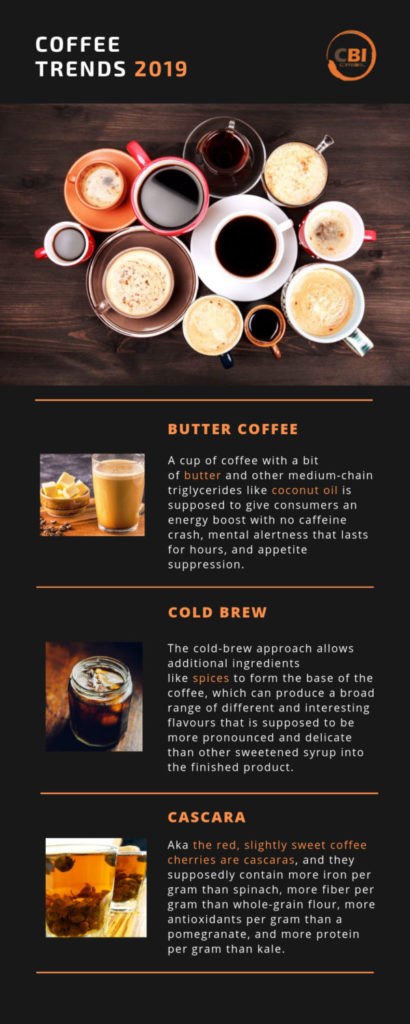 The NCA says America's love affair with coffee is more complicated than ever before.
Millennials and Gen Z are changing the world of coffee – one purchase (or app) at a time.
From the latest preparation techniques to sourcing the beans themselves, the new generation of coffee lovers isn't satisfied with their parent's drip brew.
Daily consumption of espresso-based beverages has nearly tripled since 2008, according to the latest data from the 2016 NCDT.
Between 2008 and 2016, past-day consumption of gourmet coffee beverages soared from 13% to 36% among 18-24 year olds, and from 19% to 41% for those 25-39.
For espresso-based beverages alone, the jump become 9% to 22% for the 18-24 group and 8% to 29% for those 25-39.
Source: Coffeebi.com, National Coffee Association
Tags: butter coffee, cascara, coffee consumption, coffee trends, cold brew coffee