US: The meteoric rise of hard seltzer
Hard seltzer – alcoholic sparkling water – is an unknown concept in a regular South African's beverage universe, but this cheap, low-cal, gender-neutral canned cocktail is proving to be one of the hottest growth categories in the US.
Hard seltzer requires almost zero explanation. It's water with bubbles that also has alcohol in it. Soft seltzer has been very popular for a while, and now this is seltzer that gets you drunk. But it's a beverage whose existence makes so much sense for so many reasons, and feels so perfectly positioned in this particular period of time, that it has helped define what exactly this period is.
It is difficult to overestimate the hugeness of hard seltzer to people who study the business of alcohol, but here are some exact figures: Hard seltzer is currently a $550-million business and is projected to keep growing, with one UBS analyst estimating to Business Insider that it could be worth $2.5-billion by 2021.
Sales of hard seltzer have grown about 200 percent over the past year (2018-2019), with 164.3 percent of that growth occurring in July 2019 alone, according to Nielsen.
Half of those sales are concentrated on a single brand: White Claw, which is owned by Mark Anthony Brands, the owner of Mike's Hard Lemonade. It and the next leading brand, Truly, which is owned by Boston Beer Company, together make up about 85 percent of total hard seltzer sales.
In fact, every major beer company has at least one hard seltzer on the market, as beer continues to lose market share in favour of less alcoholic, less caloric options.
If there's one thing people love more than hard seltzer, it is talking about how big hard seltzer is. Industry experts and retail trend professionals have spoken to pretty much every publication about hard seltzer's skyrocketing popularity. "This is not a fad," Ricardo Marques, vice president of core and value brands at Anheuser-Busch, told CNN. "This is here to stay."
But more than that, hard seltzer is something of an aesthetic movement, complete with its own kind of culture: There are catchphrases — "Ain't no laws when you're drinking Claws" — and memes (it's a White Claw summer, baby!), all with perfectly portable, Instagrammable cans. It's undeniable: Hard seltzer is the drink of summer 2019.
What is hard seltzer, and why is everyone freaking out about it?
At its most basic level, hard seltzer is seltzer with alcohol in it. What that alcohol is made out of can differ — usually it's just fermented cane sugar with added fruit flavours, but sometimes, like other flavoured malt beverages such as Bud Light's Lime-A-Ritas, it uses malted barley. Most hard seltzers' alcohol content hovers between 4 and 6 percent alcohol by volume (ABV), which is about the same as a light beer.
Hard seltzer is also not new. In fact, the first big hard seltzer brand arrived when many of today's hard seltzer drinkers weren't even born yet. In 1993, Coors introduced a drink called Zima, as a response to popular similarly low-ABV beverages like wine coolers. Yet Zima, despite strong sales and nearly half of American alcohol drinkers having tried it, was met largely with ridicule: David Letterman, for instance, made a habit of parodying it as a drink for effeminate weirdos.
The new class of hard seltzer arose in 2013 with a brand aptly named SpikedSeltzer, when two men in Boston, inspired by their wives' love of sparkling water, decided to home-brew an alcoholic version.
Though the founders told MarketWatch that when they originally tried to sell their product, retailers were in "total confusion" about what to do with it, they eventually sold more than a quarter-million cases in 2015, and by 2016, it had been acquired by Anheuser-Busch (SpikedSeltzer has since rebranded as Bon & Viv).
Today, there are dozens of similar brands, from White Claw to Truly, Henry, Nauti, and Press. And as of 2019, most major beverage companies have their own offerings: PBR with its 8 percent ABV Stronger Seltzer, while Four Loko topped it with a 14 percent offering that comes in flavours like "Sour Blue Razz." Natty Light also just debuted a much-hyped seltzer that even has its own GIFs on Instagram Stories (one of them features a White Claw pouring itself into a dumpster).
And earlier this year, both Bud Light and Corona came out with seltzer-adjacent lighter, fruitier versions of its flagship beverages — Bud Light with a line of Ritas Spritz, and Corona with Refrescas.
None of this explains why these things are so popular, though. Hard seltzer became the drink of summer because it exists at the crossroads of a handful of current consumption trends…..
Vox.com: Read the full article
How White Claw and the hard seltzer craze are taking on beer — and taking over America…
So, what's behind the hard seltzer craze, both among consumers and brand executives? As with many other food and beverage trends — from nondairy milk to plant-based meats — the increase in the number of health conscious consumers seems to be a primary driver for the rising interest in hard seltzer.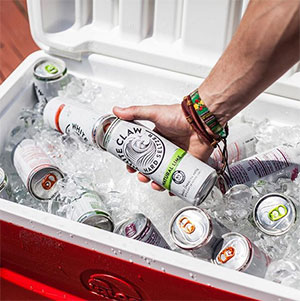 A 12-ounce can of either White Claw, Truly or Bon & Viv comes in at 100 calories, or less — which is less than most beers, and even less or comparable to most light beers (Miller Lite clocks in at 96 calories per 12 ounces, while Bud Light is 110 calories).
The hard seltzers also boast fewer carbohydrates, with each of those three leading brands coming with two grams of carbs. A 12-ounce serving of Bud Light has 6.6 grams of carbs, while Coors Light has five grams and Miller Lite is among the lightest options at 3.2 grams.
What's more, even though White Claw is brewed with fermented sugars, the drink is still far from carrying a heavy sugar load when compared to other hypersweet beer alternatives on the market, including Mike's Hard Lemonade (32 grams of sugar per bottle) or Smirnoff Ice (33 grams). Truly features one gram of sugar, verus two grams for White Claw and zero for Bon & Viv.
Meanwhile, most hard seltzers range between 4% and 6% of alcohol content, which also makes them comparable to drinking a can or bottle of beer as far as drinkers are concerned.
"Many hard seltzers are low-carb, low-sugar — and they're doing a really fantastic job at communicating that to consumers," says Nielsen's Kosmal. Hard seltzers can also provide a gluten-free alternative to traditional beers brewed with barley and wheat that contain gluten…..
CNBC.com: Read the full article