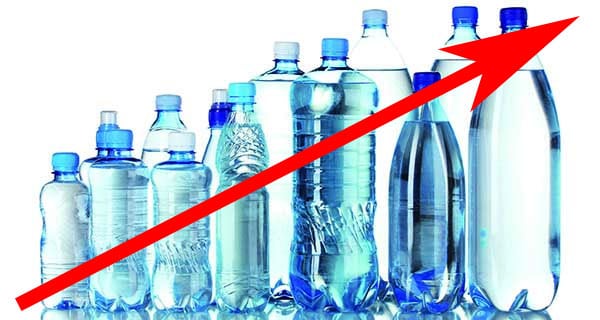 Unpacking size and growth of SA's bottled water market
Recent figures released by the European Federation of Bottled Waters (EFBW) show that the global market for packaged water has grown at a faster rate than soft drinks, and will continue to do so until 2022. SA's industry is likely to follow suit says SANBWA, the SA National Bottled Water Association.
According to EFBW, over the past five years (2012 – 2017), packaged water grew 5.7%, bulk/HOD water grew by 5%, and flavoured and enhanced waters grew by 6.4% versus carbonated soft drinks which shrank 0.2% and JNSDs which shrank 0.5%.
The growth rates for the next five years (2017 – 2022) are expected to come in at 5.9% for packaged water, 5.4% for bulk/HOD water and 4.9% for flavoured and enhanced waters versus 1.3% for carbonated soft drinks and 2.4% for JNSDs.
The EFBW concluded that, globally, carbonated soft drinks, juices and most other soft drinks – except for energy – are stagnant or in decline. This, as well as the fact that all water categories are growing strongly, is being driven by the health and wellness agenda.
However, it pointed out, much of this growth is outside of Europe. Indeed, much has been written about the growth of the packaged water industries in the United States, India, China and other Asian and middle Eastern countries.
The South African situation
In South Africa, the bottled water industry in South Africa is tiny compared to the total beverage market including alcoholic beverages, just 3.8% in 2016.
Its total size nationally, not just in the Western Cape, for 2016 was 502-million litres. This annual figure is less than the 520-million litres daily target consumption for the City of Cape Town.
According to BMi Research 2016 figures (2017 figures are not yet available), category shares of the non-alcoholic beverage market are:
Sparkling soft drinks 69.3%
Ready-to-drink fruit juice 11.8%
Bottled water 8.9%
Dilutables 3.7%
Energy drinks 2.8%
Mageu 1.7%
Sports drinks 1.1%
Iced teas 0.9%
While bottled water accounts for just 8,9% of the total non-alcoholic beverage sector, according to SANBWA executive director, Charlotte Metcalf, South Africans are drinking more packaged water.
BMi Research figures show that, consumption in 2012 grew by 3.3%, in 2013 by 1.3%, in 2014 by 1.3%, in 2015, by 6.2% and in 2016 by 2.3%.
Similarly, the total packaged water market grew by 4.5% in 2012, 2.7% in 2013, 4.1% in 2014, 8.2% in 2015 and 4.5% in 2016.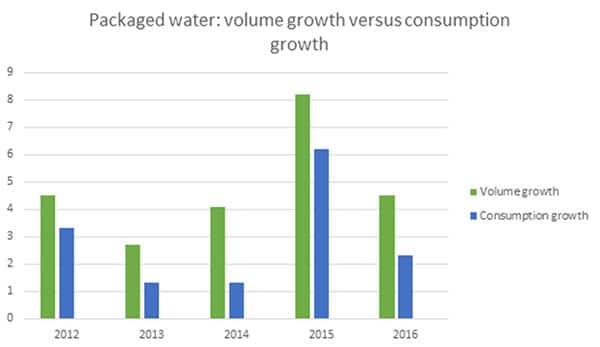 "Importantly, this growth has not come at the expense of squandering South Africa's water reserves," she asserts.
"This is of major concern to consumers and the hospitality industry during times of drought. Both groups should bear in mind that 90% of bottled water in South Africa is either classified as natural water, water defined by origin, or prepared water.
"Natural waters are obtained directly from a natural or drilled underground source and bottled near the source under hygienic conditions. Approximately 70% of all bottled water in South Africa is natural water.
"'Water Defined by Origin' is water from a specific environmental source, such as a spring, without passing a through community water system.
"Approximately 20% of all bottled water in South Africa is 'Water Defined by Origin'. Both these categories are audited annually to ensure the source is sustainable and renewable
"By contrast, prepared water is bottled from a municipal source and approximately 10% of all bottled water in South Africa is prepared water."
She says that hospitality establishments should identify their water category purchases as it's important that these do not exacerbate the drought.
"As an additional precaution, look for the SANBWA seal. The SANBWA seal ensures that the water source is environmentally sustainable," she adds.
"It also ensures that the water is free of chemical contaminants and microbiological impurities such as E coli and that it has been bottled under hygienic conditions. Finally, it confirms conformance to legislation and international standards and best practice."
Source: SANBWA
Trackback from your site.