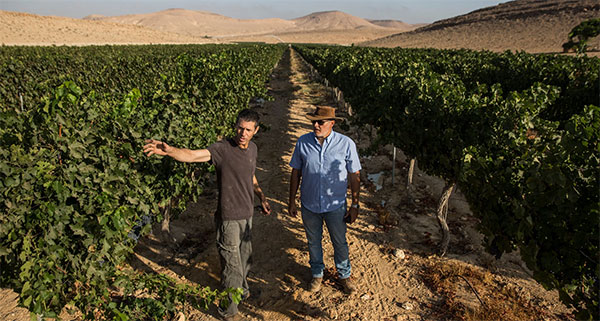 The future of wine: very, very dry
Scientists are testing techniques for growing vines in a hot, parched future. The NYT takes a look at how Israeli experts are researching this…
In the Negev Desert, the sun beats down on a parched landscape of brown, undulating hills. But on a parcel of land here in southern Israel, trees grow in green rows, and fat bunches of grapes dangle amid lush leaves.
This is not a desert apparition. It is a research vineyard, where scientists are studying how grapes can best grow in this harsh environment.
The Negev is a far cry from the temperate climates of many wine-growing regions. Yet about 20 wineries have sprouted here over the past 15 years, along with a budding wine tourism business.
The researchers are focusing on this harsh environment for a reason: to study how wine grapes can grow in the desert conditions that dominate Israel. That knowledge will become even more valuable in a world with more frequent droughts and heat waves.
What on Earth is going on?
"Climate is becoming more and more unpredictable," said Aaron Fait, a biochemistry professor at Ben-Gurion University of the Negev. "The desert model is a way to study how climate change will affect wine worldwide."
The techniques being tested here on 30 varieties of grapes include the use of nets that provide shade, trellises that coax vines to grow in formations that limit sun exposure, sensors that measure soil humidity and thermal cameras that track how much sunlight grapes and leaves absorb.
The work is gaining increased interest from European winemakers as summer heat waves and other climate shifts affect their vines. In July, temperatures hit 106 degrees in the French wine-growing region of Bordeaux — the hottest day on record. Heat records were broken elsewhere on the Continent, including in Germany, Belgium and the Netherlands.
In recent years, scientists and vineyard owners from France, Italy, Slovenia and other parts of Europe have visited the researchers in the Negev. Experts hope Israel's desert agriculture can provide valuable lessons about adapting crops to extreme and unpredictable weather.
Today in the Negev, farmers can control water with precise drip irrigation, unlike parts of the world that are at the mercy of rainfall. "Desert viticulture, where we can control a large number of variables like nowhere in a traditional vineyard, is of immense importance to test certain climate scenarios," Dr Fait said.
In the Negev, days can reach 97 degrees and nights can drop to freezing in the winter.With its dry climate,Negev vintners might spray fungicide twice a season, whereas some European counterparts spray every week.
In addition to viticulture, Israeli researchers are studying a range of techniques to grow other crops. The Ramat Negev Agro-Research Center has about 15 hectares — or 37 acres — of research plots and greenhouses where scientists cultivate wine grapes, date palms, olives and jojoba
In large greenhouses, researchers cultivate cucumbers, cherry tomatoes, eggplant and other vegetables, like an edible, crunchy grass called sarcocornia that thrives in saline conditions. Even strawberries are grown in long, suspended planters.
Scientists are testing other innovations including cameras that monitor plant roots and sensors that monitor carbon dioxide, fertilizer and salinity levels. Mulching techniques can reduce water use by 20 percent. Covering plant roots with plastic also prevents evaporation….
New York Times: Read the full article
Tags: future of wine, future viticulture, wine and climate change