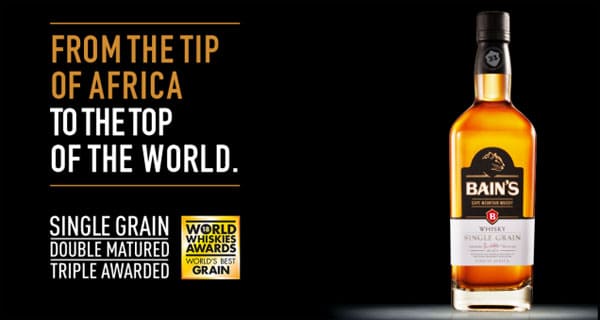 South African whisky and its distiller named world's best
Congratulations are due South Africa's Bain's Cape Mountain Whisky – and Andy Watts – for winning two major awards at the prestigious World Whiskies Awards in London!
At a gala dinner at the Waldorf Hilton Hotel on 22 March 2018, Bain's was awarded 2018 World's Best Grain Whisky… and the company's Founder Distiller, Andy Watts (below), was named the 2018 Global Icons of Whisky Master Distiller/Blender.
Watts – who's not new to awards (he won World's Best Grain Whisky in 2013, amongst several other gold awards around the world) – said this event was the most humbling experience of his 34-year career in the whisky industry. (As someone joked on Andy's Facebook page – "Give that man a… Bain's!")
Distell operates Africa's only commercial whisky distilleries, and proudly makes Bain's whisky from 100% South African-grown maize.
The awards are quite an accomplishment for South Africa, in a market that is dominated by Ireland (where whisky originated), Scotland, North America, Canada, Japan and India.
Forbes reported that Watts also said: "Our industry in SA is only 40 years old and although we've had many hurdles along the way, we have become innovative in our approach to manage our unique warmer climate, found creative ways to use home-grown raw material to our best advantage and constantly strive for crafting exceptional whiskies."
"Let's raise our glasses to a double win in London!" said Bain's on Facebook. "These accolades further inspire us to continue to craft an exceptional South African whisky."
Other winners of the 2018 Awards included World's Best Single Malt – Hakushu 25 Year-Old; World's Best Single Cask Single Malt – Sullivan's Cove American Oak Single Cask; and World's Best Blended – Johnnie Walker Gold Reserve.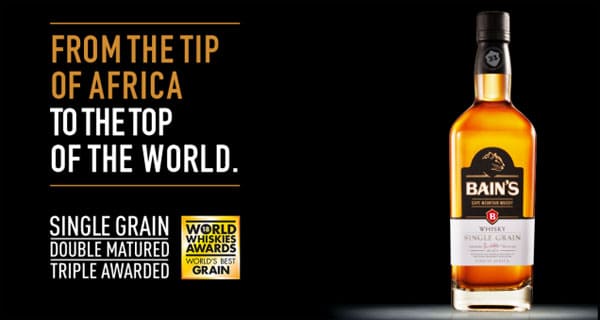 Trackback from your site.