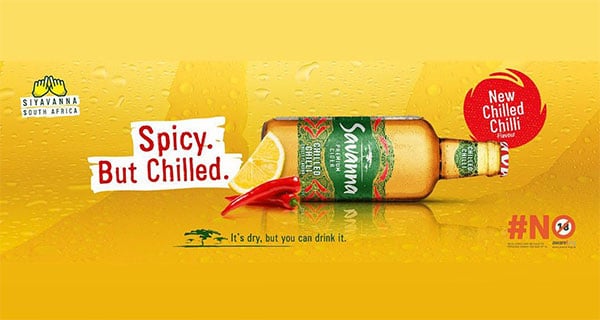 21 Mar 2022

Savanna's spicy new 'Chilled Chilli' variant

Distell's Savanna brand has roled out yet another flavour innovation, claimed as "the world's first spicy cider".

But, it's quick to assure, "…this easy drinking cider is not too hot or spicy, it's crisp and dry with hints of chilli and ginger. And it's utterly refreshing, in more ways than one."

"We are all about doing things differently and are known for challenging the norm with our products and unique experiences, says Eugene Lenford, marketing manager at Savanna.

"Savanna Chilled Chilli is the beginning of a new trend when it comes to ciders and the product you need to spice up your next get-together and spark up conversations.

"South Africans love a bit of spice when it comes to food, drinks, the weather and even their tweets. This innovation is boundary pushing in a sea of safe innovations around fruit flavours."
Creative collaborative advertising
Renowned for intelligent, dry and witty humour around the brand, there's nothing 'safe' about this advertising campaign either.
It begins with the launch of the Chilled Chilli TVC starring Chakalaka Norris, South Ahhh's very spiciest. How spicy? So spicy he eats Nando's chicken in Savanna ads.
Two of SA's spiciest brands have hooked up a collab on this campaign to show the industry flames, and a special meal combo is available at licensed Nando's stores nationwide.
Now at all major liquor outlets, new Savanna Chilled Chilli has an easily identifiable hint of red on the 330ml bottle. It has an alcohol percentage of 5.5%.
For more information, follow Savanna's social media channels or go to www.savanna.co.za.
Instagram: @savannacider
Facebook: @SavannaCider
Twitter: @SavannaCider
YouTube: SavannaCider
Source: Distell