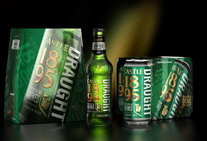 SAB reimages Castle Draught as Castle 1895 Draught
"The Castle 1895 Draught is a contemporary, authentic alternative in premium beer, based on the original 119-year old recipe by founder Charles Glass and perfected through modern brewing techniques. Under the positioning of 'Progressive Craftsmanship', it has been crafted by a new generation of brewmasters to represent 'the best of then and now'," says SAB's press release.
With distinctive and aspirational packaging, Castle 1895 Draught is available at leading liquor stores in a 440ml can, which is being followed up this month by a new 440ml dark green bottle.
The launch of Castle 1895 Draught will be backed by a discerning marketing campaign in line with its intended target audience, which will be include in-store store sampling, activations, as well as TV, digital and outdoor executions.
"We are very proud and excited about the full marketing mix around Castle 1895 Draught. Our new look Castle 1895 Draught augers well for the future in the Premium liquor category in South African," said Castle Lager general manager, Alastair Hewitt.
"Castle 1895 Draught is inspired by the legacy of Charles Glass, our founder brewer and is precision crafted by a young generation of brew masters to represent the best of then and now," continued Hewitt.
Castle 1895 will replace the existing Castle Draught bottle and can, which were launched as a seasonal variant in 2009.
The redesign work was done by Cape Town's Berge Farrell Design. The agency describes its work thus:
"Finely crafted 1895 Draught packs bring to life and build on Castle's legacy of credibility, craftsmanship, authenticity and quality in a refreshingly premium white, gold and green colour palette.
"Constantly pushing limits and redefining possibility, the design team subtly retained the key links to the mother brand. The Charles Glass signature, founding date, 1895 and the Castle logo were all refined to communicate the strategic architecture of progressive artisanship.
"Typographically driven, Berge Farrell's considered fusion of contemporary minimalism in design with the award winning heritage of the brand, results in a visual language that is on trend, yet still invites a knowing smile from consumers.
"With the launch of 1895 Draught, Castle stays true to its roots, but continues to evolve to fit the lifestyle and tastes of today's progressive man, and indeed, that of today's new generation of exceptionally talented brewmasters."
Trackback from your site.