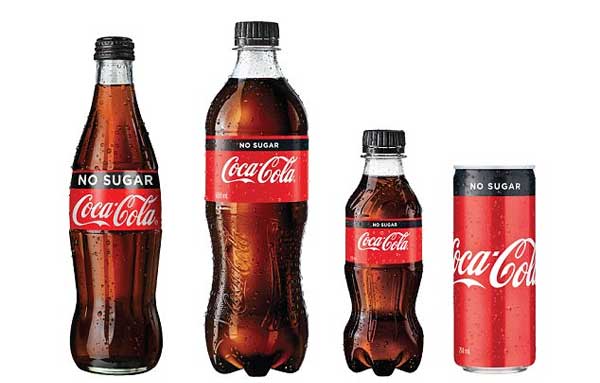 24 Jun 2017

RIP Coke Zero? New drink Coca-Cola No Sugar launching in Australia

Coca-Cola is getting rid of Coke Zero, starting in Australia – or so the launch of a new sugar-free variant would indicate.

The soft drink giant is retiring its zero calorie drink and launched a new "no-sugar" variant down under called Coca-Cola No Sugar. AdNews reports the soda will replace Coke Zero and the company claims it tastes even more like original Coke.

The "best tasting no sugar Coca-Cola we've ever made" officially launched in Australia earlier this  month with a black colour design similar to Coke Zero, which will be gradually phased out. A website already features the new tagline "Say Yes to No Sugar."

Roberto Mercade, president of Coca-Cola in Australia, told The Age that the decision came after its parent company learned just one in two soda drinkers knew Coke Zero was free of sugar.

According to BeverageDaily.com, Coca-Cola No Sugar has been under development in the US for the last five years, with the aim of creating a Coke that "tastes even more like classic Coca-Cola but without any sugar – and to make the experience of drinking Coca-Cola No Sugar be as close as possible to the refreshment of 'the real thing'."

Like Coca-Cola Zero and Diet Coca-Cola, the new Coca-Cola No Sugar is sweetened with aspartame and acesulfame K (sweeteners 951 and 950).   

While the ingredient lists between Coke Zero and Coca-Cola No Sugar are very similar, Coca-Cola has been working on the flavour profile of Coca-Cola No Sugar to bring it in line with Coca-Cola classic.  

It hopes that this similarity in taste will appeal to Coca-Cola fans who are watching their sugar intake. 

"The key difference [between Coke Zero and Coca-Cola No Sugar] is due to further optimization of the flavours," says Coca-Cola. "Like all product labels in Australia and New Zealand, any flavours used in the recipe are all included in the ingredient list under the term 'flavours'."

Its report adds that Coca-Cola No Sugar will also be rolled out across additional markets this year. 

Coke Zero launched globally in 2005, marketing primarily towards men while women skewed more towards Diet Coke. British and Australian users even dubbed Coke Zero "Bloke Coke".

The Coca-Cola Company later introduced other Coke Zero flavours, as well as adding the "Zero" brand to Sprite, Fanta and other drinks around the world.

It's unclear when Coke Zero will be officially retired and when the US might see similar changes.

"We will let consumers determine that," Mercade told The Age.