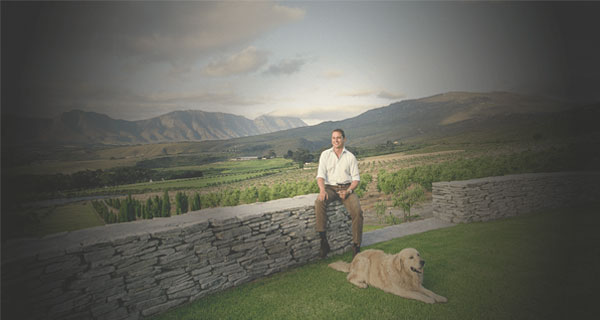 'Pinotage is capable of greatness'
South African winemaker, Anthony Hamilton Russell, is on a mission to change the world's perception of oft-maligned Pinotage; a grape he believes is "capable of greatness".
Speaking to the drinks business during the launch of the 2015 vintage of his Ashbourne Pinotage in London recently, Hamilton Russell said:
"In 1996 I told Jancis Robinson MW that one day South Africa's most famous wine will be made from Pinotage and she laughed at me.
"Brits have developed a prejudice about Pinotage but they love it in the US.
"In the past the grape has been widely mistreated. There was a sense of patriotism about it, but just because it's South African doesn't mean it's good.
"The tendency has been to make extra-ripe, soft styles, which was a mistake. People give it a bad rap and accuse it of smelling like a mouse cage or a plaster, but those notes are nothing to do with Pinotage – that's brett.
"Winemakers have traditionally turned their back on Pinotage as they wanted to shed their associations with the past and threw the baby out with the bath water as the grape is associated with old fashioned, narrow-minded attitudes.
"It presented its worst public face to the world as it was made by dyed- in-the-wool winemakers."
But despite the grape's less than glittering reputation, Hamilton Russell revealed that the Pinotage revival in South Africa is in full swing.
"If you have a glass of bad Pinotage you tend to write of the grape but young winemakers aren't weighed down by the baggage of the past and are giving the grape a second chance and doing really interesting things with it.
"The Pinotage renaissance is happening in South Africa. I've been asking Eben Sadie [of Sadie Family Wines and the winner of the 2017 Winemakers' Winemaker Award] to make one for years and he's finally looking at it, as is Andrea Mullineux [co-owner and award-winning winemaker at Mullineux & Leeu Family Wines], which is really exciting as they have the potential to make something spectacular," he said.
"Pinotage is an incredible thick-skinned, early ripening variety that has a great affinity with clay, which is why it works well on our soils in a cooler region.
"It's my mission to prove that Pinotage is capable of greatness. I believe passionately in the greatness of the grape, particularly when planted in clay soils," he added.
Ashbourne Pinotage is now made with 100% Pinotage from a 1.3-hectare single vineyard in Hemel-en-Aarde planted in 1996. Just nine barrels of the 2015 vintage were produced. The wine is aged in foudres for nine months.
Hamilton Russell is keen to expand the production the wine, which recently went on sale in the UK, if there is a global appetite for it.
"I want to develop Ashbourne Pinotage into a wine of reference that's on sale all over the world," he told db. He's equally ambitious about the wine's ageing potential, believing that the 2015 vintage will still be going strong 50 years from now.
"There is no reason why Pinotage should hang its head in shame when judged alongside the other top wines of the world. There is no benchmark for it at the moment," he said.
The wine is named after Lord Ashbourne, who was Lord Chancellor of Ireland in the late 1800s, and also happens to be Hamilton Russell's great, great grandfather.
Ashbourne Pinotage 2015 is brought into the UK by Mentzendorff and carries an RRP of £45 a bottle.
Source: thedrinksbusiness.com
Trackback from your site.