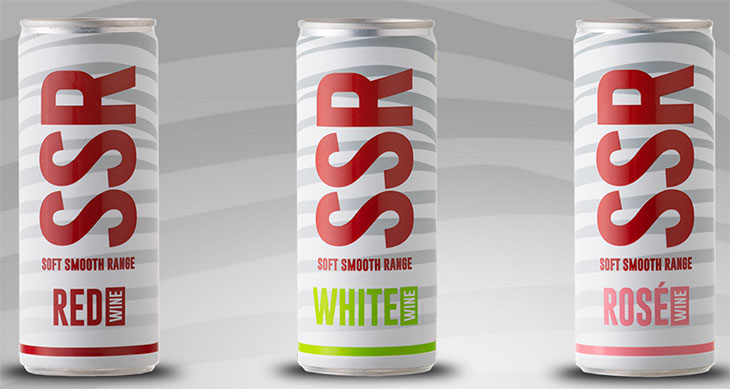 17 Feb 2023

Perdeberg Soft Smooth range: a new design, same wine

Perdeberg Wines has revamped the packaging of its popular easy-drinking and fruit-driven Soft Smooth Range (SSR) in 250ml cans.

Launched in red, white and rosé amid lockdown restrictions in 2020, and tapping into the growth of wine-in-cans, its funky zebra-striped branding has now beautifully revamped: with toned down and sophisticated graphics to further appeal to both the aspiring wine enthusiast and those with a developed wine palate.

"Never tried wine in a can before? Now's the perfect time to open your mind to the future of wine – here's why," explained the winery at the launch of this range, and these points are worth repeating here! 
It's a more sustainable option
Storing wine in specially-lined aluminum cans has numerous benefits to ease the mind of the more conscious consumer. A can has a smaller carbon footprint than a glass bottle because it's made from approximately 68% recycled material, is lighter in weight and therefore burns less fuel to transport, and uses no paper or water for labelling.
The material from a beverage can that's responsibly recycled can end up on a shelf again within two months. More wine for everybody!
It's lightweight and convenient
For adventurous wine drinkers who love to socialise, travel and soak up the outdoors, a can is more lightweight to carry than glass, doesn't need an opener or a drinking glass, and the serving size is perfect for one, so there's no need to lug home a half a warm bottle of red, white or rosé.
It's more mindful
The 'mindful drinking' or 'sober curious' movement, in which social drinkers choose to cut down their alcohol intake, is growing – especially amongst younger consumers. This means having just one glass is becoming much more trendy.
The measured 250ml portion size helps to keep tally more easily, instead of guessing just how much wine you're pouring with that heavy hand of yours.
It offers value for money
We could all do with saving a rand or two on essentials like wine. Cans allow you to budget carefully per serving, and some options cost as little as R18 a can.
It's ready to enjoy right now
Cans are just one example of the exciting revolution in the wine industry to be more accessible to growing numbers of forward-thinking newcomers to the scene.
There's no need to age wine or worry about it's possible corking, nor to let it breathe after opening or serve it in a specially shaped glass. You can open a can and sip your wine straight away, and it'll taste great – every time.  
The Perdeberg Soft Smooth Range in a can is available in red, white and rosé and is stocked in selected retail and liquor outlets nationwide at the recommended price of R17.95 for one and R70.95 for four.
For more information on Perdeberg Soft Smooth Range and additional cocktail options, please head to the site or follow them on Instagram.
About Perdeberg: Nestling in the shadows of the Paardeberg Mountain in Paarl, Perdeberg adopted its name from the mountain zebra that once roamed its foothills, which were mistaken for wild horses by the Dutch. Established in 1941, Perdeberg has produced award-winning wines grown in various microclimates in the area. The superior quality of dry land vineyards and innovative techniques of the winemaking team combine to produce premium wines of world-class quality.