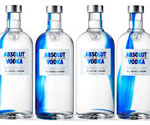 Packaging Perspectives – Innovative limited edition bottle designs
Absolut Vodka have addressed this with the launches of Absolut Originality (pictured) in 2013 and Absolut Unique in 2012, producing four million bottles each year that carried an individual decoration.
In this video, Benjamin Punchard, Mintel's Senior Global Packaging Analyst, discusses the launch of Absolut's limited edition bottle designs and how they've been created.
Tags: Absolut, limited edition packaging, packaging design, personalisation
Trackback from your site.