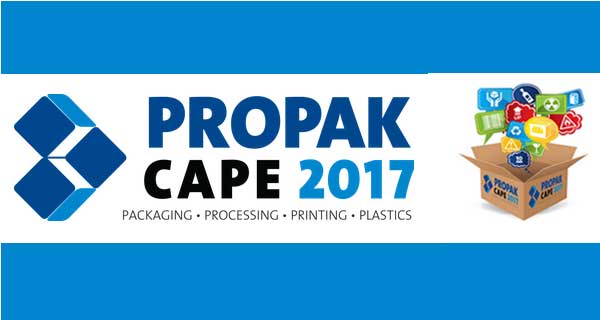 Packaging conference and free-to-attend seminars at Propak Cape 2017
Business decision-makers, purchasing influencers and other industry professionals in packaging, food-bev processing, plastics, printing and labelling will be heading to Propak Cape in October, looking for the latest products, technologies and services as well as to network, develop supplier relationships and engage with industry organisations.
Taking place at the CTICC from 24-26 October, Propak Cape will enable visitors to connect with over 200 local and international exhibitors, gain access to technical experts on the stands and have the opportunity to view live demonstrations of products and machinery.
Visitors will also benefit from the daily programme of informative free-to-attend seminars *.
Among the speakers at the seminar series will be Charles Muller, Executive Director of Packaging SA. His topic, 'Emerging trends in sustainable packaging: 2017 and beyond', will discuss how sustainability is no longer an option, but an essential design element in order to attract, relate to and retain consumers.
Anton Hanekom, Executive Director at Plastics SA, will focus on initiatives driving growth in the South African plastics industry, and what strategies the SA plastics industry can implement in order to maintain growth and remain competitive.
Douw Steyn, Sustainability Director at Plastics SA, will provide an overview of what the South African plastics industry is doing to design better packaging, increase recycling rates, and introduce new models for making better use for a circular plastics economy during his presentation 'Rethinking the future of plastics: SA industry insights.'
Wendy McLoughlin, Business Development Executive at Kemtek Imaging Systems, will talk on 'Digital disruption and innovation: the future of packaging', providing insight into how innovations in packaging are being rolled out to address consumers' demands for ease of use, sustainability, convenience and fun.
For some, Industry 4.0 is a concept that is known about but maybe not fully understood in relation to improved productivity. Questions also surface around how changes in technology will impact the skills required in an organisation. Hugo van Niekerk, Business Manager: Training and Consulting at Festo Didactic, will shed light on this when he presents his seminar topic 'the dawn of smart factories: reducing downtime costs and maximising productivity for the packaging, processing & plastics industries.'
Focus on the wine and olive oil industry
Launching alongside Propak Cape this year is the Wine and Olive Oil Production Expo, bringing wine and olive oil production and supply into the spotlight.
Seminar speaker, Shelly Fuller, who is the Sustainable Agriculture Fruit & Wine Programme Manager at WWF-SA, will share her thoughts about 'a sustainable green wine and olive route: the importance of people, planet and purpose'.
To provide an overview of the local wine and olive oil industry, Pieter van Niekerk who is the Agricultural Economist at VinPro, will share insights around the market size, economic impacts and demand of this industry. Current growth trends will also be discussed in the presentation providing industry players with a sense of how the industry is growing and developing locally.
Bhekithemba Dlamini, the Deputy Director Agro Processing at the Department of Trade and Industry (DTI) will present the DTI perspective on South Africa's multi-billion agro-processing sector which plays a significant role in terms of job creation and sustainability in the economy.
Insights of the bottled water industry
The free-to-attend seminar series will also include an afternoon of enlightening talks hosted by the South African National Bottled Water Association (SANBWA).
John Weaver, Chairman of SANBWA, will talk about the bottled water landscape in southern Africa and opportunities for growth as well as providing an overview around the SANBWA seal of quality on bottled water bottles.
A bottled water market review will be presented by Hayley van Schalkwijk, Research Manager at BMI Research, while Cheri Scholtz, CEO at PETCO – the PET recycling company – will look at how PETCO is driving the transition to a circular economy in South Africa.
Efficiencies, waste management, design and economics
Other speakers include:
Technology specialist, Imraan Lambat, who will speak about the future of manufacturing and the innovations and opportunities driving economic growth.
Roland Thompson, Business Development Officer at Mpact, will discuss the recycling opportunities and challenges that are facing the SA packaging industry.
Agripa Munyai, Environment Manager at Tetra Pak South Africa, will talk about managing waste responsibly as a key environmental, economic and social priority in the 21st century.
Jason Forbes, Owner and Creative Director at The Graphic Ballroom, will give insight to successful design thinking for packaging and printing innovation.
Jaco Coetzee, Regional Sales manager at GEA Africa, will unpack trends and technological innovations changing the face of food and beverage processing.
David McCall, National Head of Transactional Banking, Global Trade and Investments at Nedbank, will highlight how businesses can create efficiencies, enhance the bottom line and manage risk through more effective management of their treasury systems and processes.
Mark Dowson, Director and Shareholder at First Asset Finance, will talk about accessing funding for the packaging, processing and plastics industry.
Johann Boonzaaier, Manager of the Horticulture Division Bureau for Food and Agriculture Policy (BFAP), will discuss the financial and economic implications of the Western Cape's severe drought on various agricultural sectors and industries in the region.
Informative one-day Packaging Indaba
This year's event boasts a block buster format which encompasses sustainability concerns and developments surrounding substrates and raw materials; how South Africa's top retailers and brand owners are incorporating sustainable packaging formats and how packaging can reduce food waste.
The Packaging Indaba is taking place alongside Propak Cape on 26 October and will be hosting top speakers and encompassing topics such as:
Economics and packaging – investing in a sustainable future
Food waste and packaging – insights and advice
Sustainable manufacturing and whether imports are decimating the future of packaging
The future of FMCG retail packaging and whether retailers and brand owners are thinking sustainably
The battle of the substrates and raw materials and looking at the best in sustainable board, glass, plastic and metal packaging options
This is a valuable event for anyone wanting to enhance their packaging know how, network and meet industry experts and learn about current, contextual information relating to the packaging industry, various value chains and concerning sustainability issues.
The price to attend is R2 250 per person while IPSA, Packaging SA or Plastics SA members pay R2 000 per person.
For more information contact VDS Media at jolanda@vdsmedia.co.za or visit www.vdsmedia.co.za.
About Propak Cape 2017
Propak Cape is endorsed and supported by the Institute of Packaging South Africa (IPSA), Plastics SA, Printing SA, Packaging SA, the South African National Bottled Water Association (SANBWA), and the Italian SA Chamber of Trade and Industries (Italchamp).
The show is organised by Specialised Exhibitions Montgomery, a member of the prestigious Montgomery Group.
To register for free entry to Propak Cape and for further information, go to www.propakcape.co.za
*The seminar programme is subject to change; the organiser reserves the right to change the programme.
Related reading:
All the latest international packaging trends will be on show at this year's Propak Cape trade exhibition, which takes place at the Cape Town International Conference Centre (CTICC) from 24-26 October.
Trackback from your site.