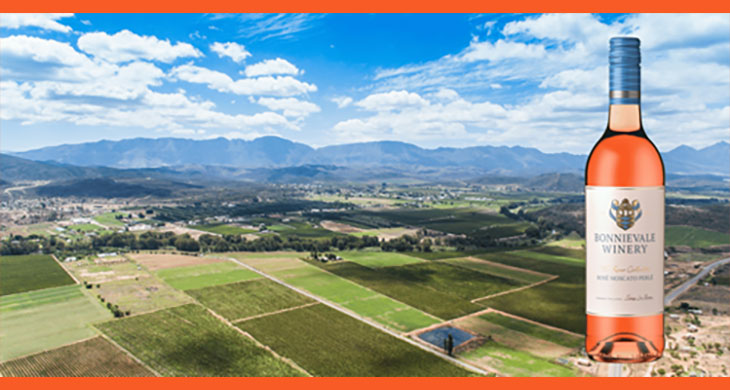 23 Apr 2023

Nice on-trend launch from Bonnievale Winery: try it out with a 17% discount!

Pink is in, bubbles are in, low alc is in – which combine aptly in this new offering from Bonnievale Winery, The River Collection Rosé Moscato Perlé.

"Light-bodied and deliciously fruity, this wine goes beyond the ordinary with the slightest suggestion of pearly bubbles, its dusk-pink hue, abundant flavours of succulent berries, and an alcohol content is just 8.5% ABV," is how the PR describes it.

The Rosé Moscato Perlé is a sweeter style rosé and gets its colour and flavours from Muscat de Frontignan grapes that grow in the Robertson Wine Valley.

The wine is part of Bonnievale Winery's The River Collection, named in reference to the Breede River and its significance to the region's farming families. The award-winning range houses a selection of premier white, red and rosé wines.

According to Bonnievale Wines Group CEO John Barnardt, the wine was added to The River Collection in response to the surge in demand for low alcohol wines, complemented by perlé wines that are flavourful and well made.

"As consumers have become familiar with the excellence of Bonnievale's wines, sales of our perlé rosé are soaring," he says.
It sells for R73/bottle and is available online and the cellar door in Bonnievale, currently at a launch promotion price of R788.40 for 12 bottles. Roll-out to retailers and restaurants countrywide is in process.
SPECIAL OFFER! Try this new wine with this discount deal, valid for May 2023 only!
Coupon Code: Moscato Rose
Deal: 17% off on x6 bottles or more of Moscato Rosé
Link: https://buywine.bonnievalewines.co.za/shop/the-river-collection/sweet-rose/rose-moscato-perle/

See more at www.bonnievalewines.co.za