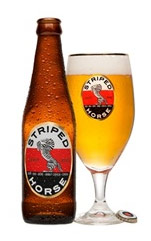 New African craft beers from Striped Horse
Rushmere says, "I believe that the beers capture the spirit of the modern day explorer and the eclecticism that is Africa – where cultures combine and a blending of worlds occurs. That is the magic of this place and our hope is that the brand highlights the potential of discovering that inspiration."
Now is a rewarding time for beer lovers, as unique and increasingly diverse offerings are being brought to market. "The craft beer market is set to continue to grow and we hope that Striped Horse is one of the key drivers of that growth. There truly is a beer renaissance gathering momentum as the grip of the formulaic beer giants loosens and, at long last, the nectar gets the treatment it deserves."
Striped Horse Lager pairs a layered malt complexity with perfectly balanced hops to create textured, yet easy drinking refreshment. Striped Horse Pilsner is the queen of beers, both elegant and voluptuous. Its complex, hoppy nose, subtle citrus undertones and balanced bitterness on finish, make for the perfect food beer.
See more at www.stripedhorse.co.za.
Trackback from your site.