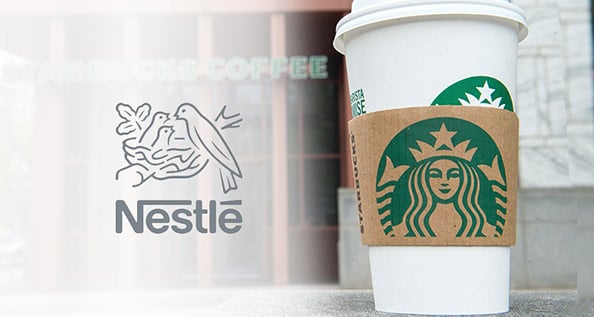 Nestlé unveils its first coffee lines under Starbucks name
Nestlé has announced the launch of a new range of coffee products under the Starbucks brand to be available globally.

While no official photographs of the products have been released as yet, the new range consists of 24 products, including whole bean and roast and ground, while 16 are capsules compatible with the Nespresso and Nescafe Dolce Gusto systems.
Prices for capsules will be on par with Nespresso, and the first markets include the UK, Spain, Belgium and Brazil. The US will come later this year.
Nestlé paid $7.15-billion for the right to market Starbucks products last year as it seeks ways to rejuvenate the Nespresso capsule business, which used to be its biggest growth motor.
The alliance could help Nespresso return to annual growth rates for revenue exceeding 10 percent, according to Patrice Bula, chairman of the brand.
"This is a moment where we'll accelerate in premium," he said at a press conference at Nestlé's headquarters in Vevey.
To reach double-digit growth, Nespresso would have to boost Starbucks capsule sales by $250-million a year, according to Jefferies analyst Martin Deboo. He said that looks like a stretch.
Starbucks, which has been making capsules and other products for supermarkets, will keep doing so in North America, but elsewhere production will be handled by Nestlé.
In the alliance, Starbucks brings name recognition to the alliance, while benefiting from Nestlé's reach into supermarkets.
Starbucks already had a $2-billion business selling consumer products in its home market, according to David Rennie, head of Nestlé's coffee unit.
"With Nescafe, Nespresso and Starbucks, we really believe we have the three iconic power brands in coffee today," Rennie said.
Nespresso's sales have been growing by a mid-single-digit percentage globally, Nestlé said in October. That's come down from growth rates of as much as 30 percent achieved before other companies started making cheaper knock-offs and creating own-capsule systems.
Nestlé introduced sister brand Nescafe Dolce Gusto in 2006 as a more accessible single-serve machine and pods. It also makes a wider range of coffee drinks, while Nespresso emphasizes espresso.
It took about a decade for Dolce Gusto to become a billion-dollar business.
Source: Nestlé, Bloomberg
Tags: Nescafé Dolce Gusto, Nespresso, Nestlé, Starbucks