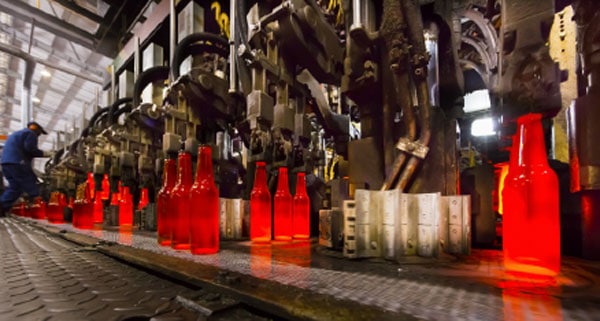 Nampak looking to sell its glass division
A recovery in SA consumer confidence this year is expected to result in more spending. That means more packaged goods are likely to be bought – which is good for the companies like Nampak, who says it expects increased demand for packaging to drive growth in volumes and its overall performance this year.
While the recovery has fed through to its Metals and Plastics divisions, it seems that Glass can't keep up due to structural problems at the unit, which it has now decided to sell.
It plans to approach packaging industry players to invite proposals for the sale of the business and says exploratory talks have already been held.
It expects Glass to report a first-half loss as it can't manufacture enough glass containers to satisfy demand. Municipal supply of electricity remains inconsistent, although it secured stable supply from the operation's rotary uninterruptible power supply system for the second quarter.
It says it has also been held back by insufficient technical skills at the unit.
Nampak also reports it is facing an unnamed new entrant in the South African beverage can market.
"Discussions with a major customer regarding the renewal of an existing supply agreement that comes to an end on March 31 are in progress and we expect that some volume will be allocated to the new entrant," Nampak notes.
Among JSE-listed companies, Nampak has been one of the most aggressive to expand into Africa outside of SA.
Five months into the new financial year, Nampak says Nigeria is displaying an improvement, having emerged from last year's recession. While overall inflation remains high, wage inflation has now caught up and purchasing power has been restored, resulting in stronger consumer demand.
It says small shifts in Nigeria's roughly 194 million people contribute towards significant changes in demand and it has experienced volume growth substantially in excess of GDP growth in the five months to end February.
The introduction of the Nigerian Autonomous Foreign Exchange Market last April and a stronger oil price have also led to a big improvement in liquidity, with foreign currency reserves doubling to $44 billion.
In Angola, moves to devalue the kwanza to stimulate liquidity in the currency are seen as positive – although the devaluation has proceeded slower than expected, it says.
Nampak says its Bevcan division has shown pleasing growth in South African and Angola, with a "robust recovery" in Nigeria. It has also experienced stronger demand for fish and meat cans, while general metals packaging in the rest of Africa is trading to expectations, with modest growth in certain categories.
Its Plastics South Africa division has also seen a moderate volume recovery in certain sub-categories, but the performance for the five-month period has been impacted by the loss of volume from lower tender allocations by a major customer late last year.
It says this volume loss has been partially mitigated by higher capacity utilisation initiatives and strong water container demand throughout the country, especially in regions impacted by the drought.
The performance from its paper division has been mixed, with strong demand from Nigeria but subdued demand from Zimbabwe, Zambia and Malawi. It says if liquidity in Zimbabwe doesn't improve in the second half of the year, the performance there will be subdued as more stringent requirements for customers have been put in place to limit exposure to that country.
Nampak says the stronger rand over the period will negatively impact its earnings from outside of South Africa but will benefit the translation of its dollar-denominated borrowings.
It says dollar shortages in Angola and Zimbabwe and the series of expected currency devaluations in Angola could result in potential foreign currency translation impacts.
Its results for the six months to end-March are scheduled for release at the end of May. Its shares sank 9.8% to R15.20 last Thursday.
Source: InceConnect.co.za; BusinessLive.co.za
Trackback from your site.