22 Apr 2020

Making vodka out of thin air

A New York-based technology, Air Co, company is reducing carbon in a different way — by capturing carbon dioxide from the air and transforming it into useful products.

Their first product is Air Co Vodka, introduced in November 2019.

"The three integral components that are at the core of our technology are air — carbon dioxide — and water and solar electricity," says Gregory Constantine, co-founder and CEO of Air Co.

"First, we split water into hydrogen and oxygen. The oxygen is released out into the atmosphere, and the hydrogen is mixed with captured CO2 over our catalyst that causes a reaction to convert it into alcohol. Our process uses the same principles as photosynthesis in plants but does so more efficiently."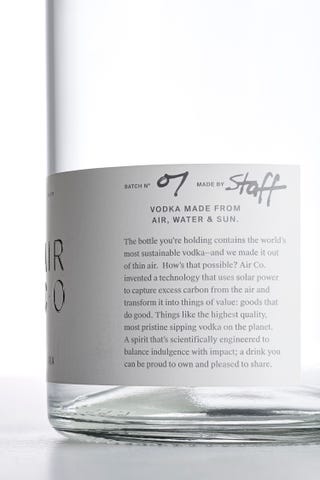 Here's how it works: Air Co's conversion reactor produces a mixture of approximately 10 percent ethanol in water, free of all solids or other constituents you'd usually find in fermentation, explains Stafford Sheehan, the co-founder and CTO of Air Co, a Yale PhD who has developed several commercial technologies based on his applied research in the fields of chemistry, physics and computer science.
"Following conversion," he says, "we distill the 10 percent ethanol to 96.5 percent in a custom-built, 18-plate vodka still followed by additional proprietary, trade-secret processes to purify and dilute the ethanol to a 40 percent alcohol-by-volume vodka."
So, no giant, farmed, irrigated acreages of grain, no fermentation, and no complex distillation to remove impurities.
All carbon-negative
For each bottle of vodka produced, the company claims that it removes one pound of carbon from the atmosphere, the equivalent of the carbon reduction of nearly eight trees in a day's work. In comparison, Air Co.'s closest competitor in the vodka market emits 13 pounds of carbon per bottle.
After Air Co introduced its vodka last year, public reception exceeded leaders' expectations. The vodka won gold medals for blind taste tests at two international spirits competitions, and consumers have embraced the company's vision of redefining conscious consumption.
"We've been so thrilled at both the positive response to our liquid, but also to the ethos of our company that's centered around innovation," Constantine says.
"We hope to play a role in bringing people sustainable solutions of the highest quality, which harness the power of science and technology to improve our planet."
When the COVID-19 pandemic interrupted business and life, Air Co shifted its vodka production efforts to make carbon-negative hand sanitiser. Currently, the company is producing about 2,000 bottles of hand sanitiser each week, and "we're planning to continue to make it as long as there's a need," Constantine says.
Looking ahead, Air Co aims to continue innovating and developing products in various categories that will reduce carbon in the atmosphere and improve the lives of customers.
Says Sheehan: "We knew we could make alcohol from carbon dioxide, and we looked at the markets where we could both have the most impact and make enough revenue to sustain a company.
"Because we had an ultra-high-purity alcohol, [we] started out in a place that leverages that value proposition, where [we could] sell a higher-value product because we had very, very clean alcohol. We're also looking at spirits, fragrances — you know, very premium consumer products that require really clean alcohol — and we're gradually working our way down to other applications such as pharmaceuticals and things like that."
That might include fragrances, home cleaning products, and more. Along the way, the company hopes to inspire others to develop technologies that will better the planet, Constantine adds.
Source: IFT.org, PopularMechanics.com