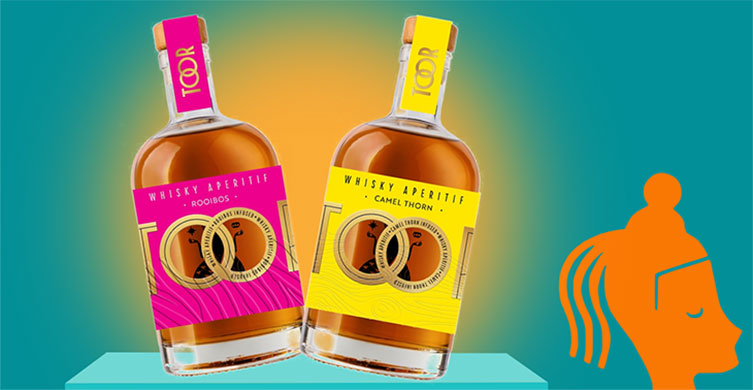 03 Feb 2023

Lekka local new whisky aperitifs

The rules governing the labelling of whisky are strict – and a limitation on creative distillers who're eager to disrupt and vitalise this traditional spirits category.

As the ninth largest whisky market in the world, South Africa imports some 42 million bottles of Scotch whisky every year. Strict global regulations on Scotch production prevent distillers from cutting corners with their craft, ensuring a premium standard and taste is maintained across the international stage.

However, these rules have historically also limited local innovation and customisation of the spirit, according to Gerrit Wagener, CEO of Redford Beverages, official distributor of the South African Toor Whisky.

This is why the South African government's latest announcement of a new spirit category – a 'whisky aperitif' – has been very well received by local craft distillers such as Toor.

Wagener says: "The clarification of the whisky aperitif category is music to our ears, as it allows us to showcase unique South African flavours in whisky to our unique local audience."

In recent years, increasing interest from millennials – both male and female – has challenged the long-standing whisky drinking stereotype of a middle-aged man in a gentleman's club. All over the world, brands are re-evaluating their values and zeroing in on a new type of whisky drinker.

Toor Whisky is one of the first to launch two variants into this new spirit category, their Camel Thorn and Rooibos releases.

"When Toor was conceptualised, we always wanted to showcase South African flavours in whisky, especially that of South African wood," says Wagener.  

"Unfortunately camel thorn is not an easy wood to make a barrel from. So, for us to showcase the flavour of this iconic wood in a whisky, we had to work with government to find a category that enables us to expose pure whisky to actual camel thorn wood, which is why we are so delighted to finally have the whisky aperitif.
"This new category allows Toor to further amplify real whisky with uniquely South African flavours using our vacuum cycling technology at Doña distillery, under the watchful eye of our stellar distiller, Danielle Schoeman.
"Keep an eye out though, because according to government rules the maximum alcohol in this category is 30% (as opposed to 43% in our original grain whisky). For many whisky drinkers, the lower alcohol content rule comes with additional benefits, whereas others might have to pour a double!" he concludes:
The full Toor Whisky range is stocked at a variety of outlets, including Takealot and Makro for national delivery, and in selected Tops at Spar in the Western Cape and Gauteng for easy access over festive season. RRP: R 299.00
Stockists: Takealot, Makro, selected Tops at Spar, Liquor City, Norman Goodfellows and independent stores, bars and restaurants.
---
More about Toor
Launched in mid 2022, Toor is a new entrant onto the South African whisky scene, and is a collaboration between South Africa's Redford Beverages and Doña Distillery.
Toor is a collection of whiskies that aims to both challenge but respect the tradition of the whisky world. Its philosophy is about "bringing the old and the new together, and opening the experience of enjoying whisky to all".
It debuted with a whisky comprising 100% local grain and matured in ex-bourbon American oak casks for five years before being finished in French oak casks, that it describes as "an easy-drinking, smooth and fruity grain whisky".
Its double maturation process yields a rich, smooth whisky with vanilla and roasted oak flavours. a well-balanced nutty, caramel and stone-fruit palate with a well-refined finish and hints of maple and earth.
Doña – which means woman of rank – is a craft distillery in Cape Town run by female distiller, Daniella Schoeman, who started distilling and ageing her own grain whisky. For this release, the team from the distillery and Redford Beverages managed the sourcing, blending and ageing to deliver the taste profile they were aiming for.
Schoeman explains the distilling process for Toor, "The double maturation process is where the spirit is matured in one cask, then spends time in a case of a different origin. It allows for a greater degree of flavour and aroma complexity to develop in the whisky and the blending process is also significantly escalated. This form of marrying also allows for greater control over the final product."
Graduating from Stellenbosch University with a business degree, Schoeman worked in the corporate world for six years before trading in her heels for tekkies and following her heart to the Karoo where she experimented with making tequila.
This journey led her to establish Doña Distillery with the aim to bring new and exciting spirits to the local and international market.
See more at www.toorwhisky.co.za