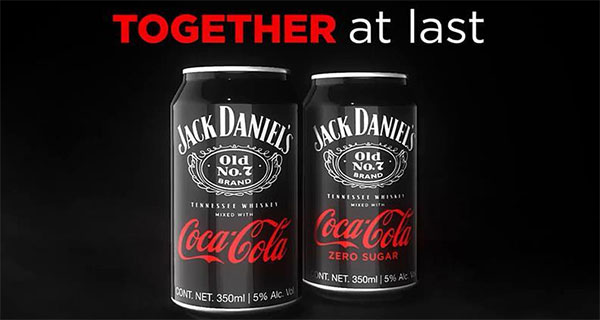 19 Jun 2022

Jack and Coke tie-up: a game-changer?

Some drink combinations are true classics. Gin and tonic. Scotch and soda. Another on top this list in many parts of the world is Coca-Cola and Jack Daniel's.

Jack and Coke, as it is more commonly referred to, is a drink that has stood the test of time and remained incredibly popular. Sure, Rum and Coke is another Coca-Cola inspired cocktail that almost everyone has heard of, but there is something about a Jack and Coke that elevates it just a bit over the rest.

Which is likely why Coca-Cola has chosen it as the drink that will help to launch the company into the ready-made canned cocktail market, which has seen explosive growth over the last few years, mostly thanks to the COVID-19 pandemic.

The new drink will be introduced in Mexico later this year with the plan for it to be released globally sometime in 2023.

Mexico was chosen for the test run due to the fact both Coke and Jack Daniel's are incredibly popular there and the canned cocktail market is already established in the country.

The new product will come in a two variants, regular Coca-Cola and Coca-Cola No Sugar.
The Jack and Coke gamechanger

Brown-Forman has been selling Jack Daniel's pre-mixed with cola for years – but its new venture with The Coca-Cola Co could shake up the market, says Richard Woodard, spirits columnist for just-drinks.com.
Drinking Jack Daniel's mixed with cola is nothing new. Even drinking Jack Daniel's pre-mixed with cola is nothing new. But the new drink – Jack Daniel's Tennessee Whiskey pre-mixed with The Coca-Cola Co's flagship cola – is a new move and, Woodard argues, an initiative that could have ramifications for other spirits categories and companies.
"That this venture is happening at this moment reflects the swift and deep changes currently sweeping through the large and amorphous RTD category," Richard says.
"Historically perceived in many western markets as a low-margin gateway into bev alc, the RTD category is now a hugely diverse sphere encompassing everything from hard seltzers to premium pre-mixed cocktails, from reinvented alcopops to hard teas, coffees and kombuchas.
"That breadth is important because it will – or should – open up RTDs to brands and categories that might have been slightly wary in the past about pre-mix involvement somehow tarnishing their image with consumers."
Source: GuiltyEats.com; just-drinks.com