Introducing the new instant red cappuccino from red espresso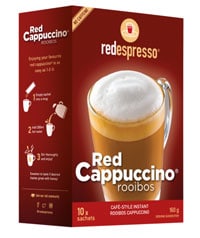 red espresso, the innovators behind South Africa's popular rooibos red cappuccino, have added a new item to the premium gourmet beverage market with the launch of instant red cappuccino.
Since its launch in 2005 on Woolworths and Mugg 'n Bean menus, red cappuccino has gained a growing loyal following of coffee and tea drinkers alike, and today you would be hard-pressed to find a café that does not serve it.
Monique Ethelston, co-founder and marketing mirector of red espresso says "Our red cappuccino is the preferred caffeine-free alternative and has become a part of our South African heritage; proudly served to international visitors as the 'African cappuccino'".
With over 5 000 tonnes of rooibos tea consumed in South Africa annually, there is no doubt that South Africans love their rooibos. They were quick to adopt the more sophisticated way to enjoy this national beverage and in 2016 more than five million red cappuccinos were enjoyed in South Africa alone, notes Ethelston.
Pete Ethelston, co-founder and MD of the company, has this to say of the launch: "It's the first time we are putting our famous red cappuccino onto the retail shelves, really leveraging off our intellectual property and brand.
"The instant red cappuccino single serve sachets give our consumers what they want in a more convenient way."
Launching exclusively with Woolworths, the team behind red espresso have positioned their instant red cappuccino as the premium, caffeine-free alternative.
"Add to that the health credentials of naturally caffeine-free and less than a teaspoon of sugar per serving and you've got a winning combination to take advantage of the global trends in health and the premiumization of tea as well as the growth in home consumption of gourmet café style beverages," he adds.
Nic Reid, head of NPD at red espresso says: "It was important for us to create a drink that was as close to a café-prepared red cappuccino as possible. At the same time it needed to be quick and easy to make without the need of a coffee appliance.
"We also made a conscious decision to add as little sugar as possible. The result is that there is less than a teaspoon of sugar per sachet. Many similar products in the market place are typically over-sweetened with 40 – 60% sugar or are unnecessarily bulked up."
Red Espresso: www.redespresso.com
Tags: instant tea, red cappuccino, Red Espresso, rooibos
Trackback from your site.