20 Apr 2022

Impressive sales, impressive losses at Oatly

Oatly, probably the world's best-known plant milk brand, has announced sales in 2021 up 56% compared to the same period in 2020. The real picture is not so pretty….

Healthy food expert, Julian Mellentin of New Nutrition Business reports that for every $1 of product Oatly sells costs it $1.28 to produce and as a result its losses are also up – by 220% (see chart below).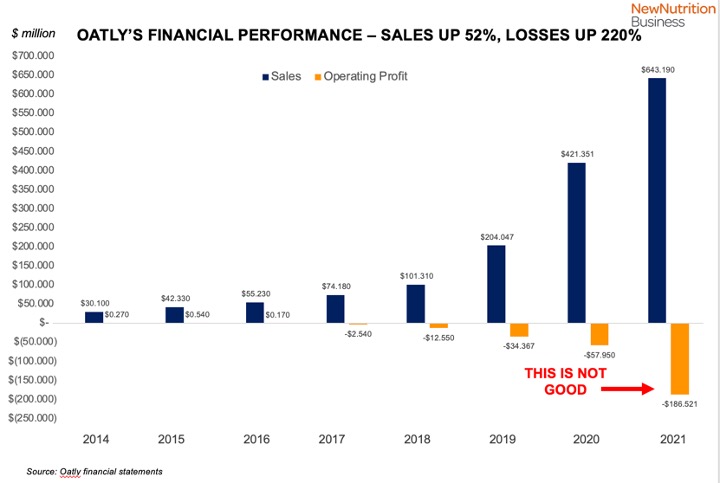 That's right, every new sale it makes increases its losses. Running a business like this take a very special talent!
Oatly has also seen its gross margin tumble from 27.7% in 2020 to 15.9% in 2021. In 'the old days' before Big Money investors got involved in the food industry and companies were expected to make a modest profit, that would have been a firing offence for the CEO. But this, apparently, is a 'new normal'.
With raw material and energy costs rocketing, Oatly's gross margin is only going to get worse. By the way, Oatly's stated "long-term goal" is to achieve a 40% gross margin. That looks like a very distant dream.
Oatly will probably one day hit its ambitious sales target of $1-billion, but at the cost of continuing to lose money. At that point it will learn just how hard it is to turn around a loss-making, low gross-margin business in a category where price competition is the norm.
More than likely find the only way out is to slash it costs.  If Oatly's management were wise they would do that now, because doing it later will be a bloodbath. But there's little here to suggest wisdom.
It's a symptom of a collapse that's coming, as I explain in this 16-minute podcast – listen below.
"Jam tomorrow" business models are toast
If you want your business to succeed in health and nutrition it's important to understand economics as much as nutrition science and consumer sentiment.
Over the next 18 months we will see the chickens come home to roost for businesses that have neglected to focus on creating a successful economic model.