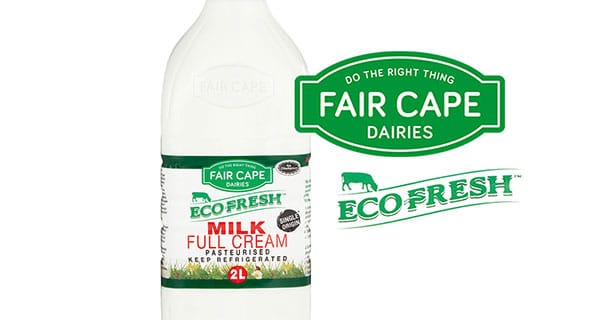 How Fair Cape Dairies made its packaging more recyclable
When Cape Town-based dairy farm Fair Cape Dairies decided to package its Single Origin EcoFresh milk in white plastic bottles it seemed like a good idea. White PET bottles are technically acceptable for recycling, but it turns out that they're not as recyclable as once thought.
"It turned out that some recyclers were reluctant to accept the white bottles because they had to be separated from the clear bottles during the recycling process," says Louis Loubser, CMO for Fair Cape Dairies.
"We became aware of the problem when our customers started emailing us, and we immediately decided to take action."
According to Fair Cape Dairies, environment concerns steer a lot of its decisions, which is why the company's milking parlour runs with solar power during daylight hours.
Ease of recycling is important too. To resolve its conundrum, the dairy farm contacted recyclers that were still accepting the bottles, and customers, collectors and buy-back centres know. But there weren't enough of them.
"We met with many different suppliers and ran tests for about 18 months. The white additive had helped to maintain the shelf life of the product, so we needed to make sure that we didn't lose this while introducing a bottle without the white additive. Eventually, we found a specific supplier with an acceptable solution," Loubser explains.
Now, the bottle made of clear PET plastic is fully recyclable and has many end-uses, and each bottle is made with 50% recycled PET (rPET).
Comment PETCO, the industry recycling association: "This highlights a partnership across the value chain that shifted from a non-recycled to 100% recycled packaging, with little to no impact on the quality of the product.
"With not too much effort, the industry responded to a need and was able to design packaging to be compatible with the existing recycling infrastructure while not compromising on product quality and consumer expectation."
Source: PETCO – view Petco's recycling guidelines here
Tags: Fair Cape Dairies, PET recycling, PETCO, white PET