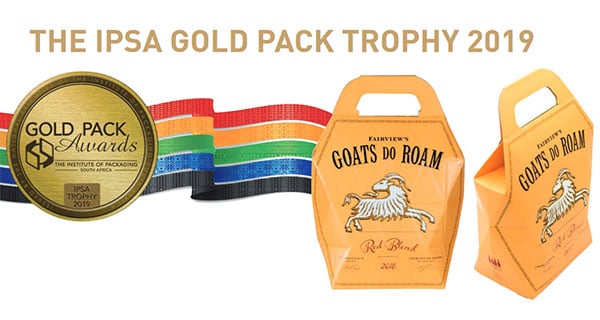 20 Nov 2019

Gold Pack Awards 2019 – Fairview triumphs!

The Institute of Packaging SA's Gold Pack Awards are the showcase for the local packaging industry – here is news of the 2019 beverage winners, with Fairview Wines's novel rendition of bag-in-box wine taking the top prize for converter, Shave & Gibson.

The tough and discerning Gold Pack judges named the carton as their overall favourite this year, with this citation:

"This handbag-shaped carton, designed for the well-established Goats Do Roam brand, meets a specific brief to play on the words 'Bag-in-Box'. Extraordinary technical development was required to meet the brand owner's exacting creative requirements. Nothing is standard and a determined 'can-do' approach was required to create what appears to be a playful, witty piece of packaging that fits cleverly into the brand's image and character. "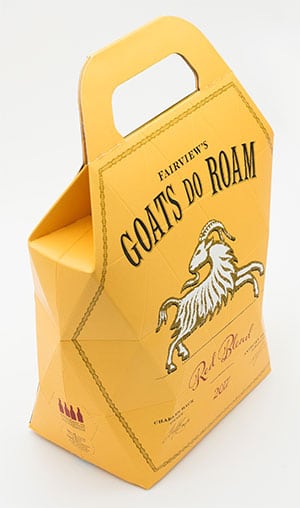 This is what Fairview owner, Charles Back, had to say about its launch in December 2017:
"Boxed wine has a bad reptuation. While boxed wines have long been associated with poor quality, they're just like traditional cork and bottled wines — there are good ones and there are bad ones.
"People just look down on it because it doesn't come in a fancy bottle, and assume the contents are cheap. But a winemaker's secret that few know is that, on occasion, we'll sneak into the cellar to pick our favourite wines and if it is still in the tank or barrel, we'll use a foil bag to collect some before we head off for the weekend.
"There's nothing 'bad' about this, and in fact, its just as good or better than some bottled wine. Plus, it's easy to transport, stays fresh longer, costs less, and is better for the environment!"
Beverage winners: Alcoholic Category
Beverage winners: Non-alcoholic Category
Click on the image, left, to view the full Gold Pack 2019 brochure.
Click here to view the food packaging winners on sister site, www.foodstuffsa.co.za.

Source: ISPA, www.packagingmag.co.za