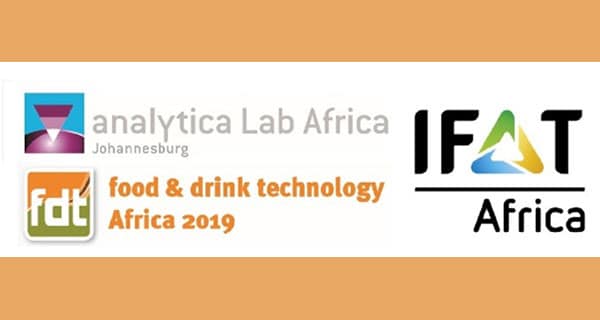 Getting set for fdt Africa 2019 expo
The countdown has started: food & drink technology Africa, the trade fair for the food, beverage and packaging industries in southern Africa, will start in ten days time. The focus of the fourth edition of the event will be on sustainability and trends in food and beverage production.
fdt Africa 2019 takes place in the Gallagher Convention Centre in Midrand, Gauteng, from July 9 to 11.
It will present solutions tailored to the particularities of the southern African market: from resource conservation to raw materials, and innovative developments in processing, filling and packaging.
More than 50 exhibitors, including Bosch Packaging, GEA Africa, Fermentis, KHS Manufacturing and Pentair, will be showing their products. Companies from China, Germany and India will also be represented with joint stands.
"In view of the general economic conditions, the interest in food & drink technology Africa is satisfactory," says Petra Westphal, Project Group Leader of Messe München. "I am very pleased with the number and quality of exhibitors."
Suzette Scheepers, CEO of Messe Muenchen in South Africa, says: "fdt Africa creates a platform for the food and beverage industry in southern Africa to build networks and share knowledge, overcome challenges and seize opportunities."
For the first time there will be a 'Food Pavilion', where 17 exhibitors from the food industry will be present.
According to the VDMA Food Processing and Packaging Machinery Association, around 7.5 million tons of packaged food products were sold in South Africa in 2018. Demand is expected to increase by a further eight percent by 2022.
Similar growth is also expected over the next five years for other countries in southern Africa, such as Angola, Botswana, Mozambique, Madagascar, Namibia, Zambia and Zimbabwe.
"With the increasing expansion of this market, food & drink technology Africa is the ideal opportunity for stakeholders to establish and maintain business relationships in order to take advantage of new market opportunities in this sector," Scheepers said.
Special attractions
Development/incubator body, Food South Africa, which helps start ups become export ready and get their products on shelves abroad, will showcase some of its members at the expo.
Thousands of young South Africans have the potential to become international agro-processing powerhouses, given the right technologies and support, says FSA.
For the first time at food & drink technology Africa, the Institute of Brewing & Distilling (IBD) will be hosting an 'African Masterclass'.
The program will include expert lectures on topics such as the use of dry yeast, sustainable water management and the perception of craft beer in Africa.
In addition, the Craft Brewers Association of South Africa (CBASA), will host a 'Sensory Experience', where visitors will experience some South African craft beer variations and will learn from the brewers on craft beer trends.
Co-location with analytica Lab Africa and IFAT Africa
This year's fdt Africa is really three expos in one, and is co-located with analytica Lab Africa and IFAT Africa trade fairs. Together, the events will occupy four halls.
Analytica Lab Africa 2019 will curate leading edge modern technologies for food testing, sampling and quality assurance.
International market leaders will present their products for testing food ingredients and preservatives, contaminants, the origin of raw materials, animal species identification and microbiological contamination, among others.
They feature a comprehensive range of leading solutions for sample preparation, chromatography, titration and spectroscopy, with a focus on digital innovation for Laboratory 4.0.
For free registration and further information on fdt Africa visit: www.fdt-africa.com
Tags: beverage expos, beverage processing, fdt Africa 2019, Messe München