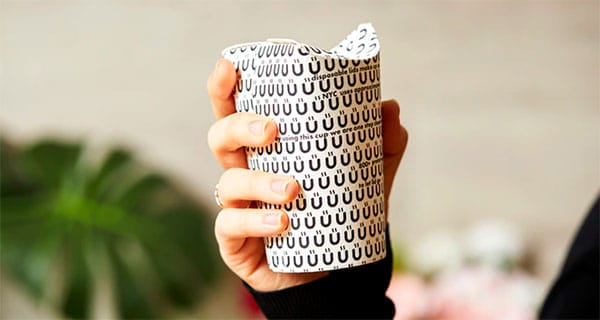 Folding disposable coffee cup eliminates plastic lids
Here's another innovative solution to the eco-conundrum that is the take-out coffee cup… Introducing the Unocup, a simple yet clever example, using a paper folding design to give coffee drinkers a takeout option without the need for a plastic lid.
Reusable water bottles, paper straws and cutlery have grown in popularity recently, as have reusable coffee cups. But there will be many times where people are in need of a caffeine hit and don't have these handy. New York City generates around four million disposable coffee lids a day, according to the developers of Unocup.
Their solution takes aim at these plastic lids that need centuries to decompose, rather than the plastic-lined paper used in takeaway coffee cups. Their folding cups are made from that same plastic-lined paper material, at least for now.
They have actually been in development since 2015, with the team working through a string of prototypes to arrive at a final design with the right mix of ergonomics, spill resistance and durability.
In 2015, frustrated by the amount of waste on the streets, founders Kaanur Papo and Tom Chan [more of those pesky clever immigrants, Mr Trump] came up with an idea for a new paper coffee cup that eliminates plastic lids.
The cup prototypes then garnered a lot of attention and won a $100k prize in the international design contest New Plastics Economy Innovation Prize organized by Open IDEO and Ellen MacArthur Foundation. It also got featured on BBC, Fast Company, dotNYC and National Geographic, as well as exhibited in a major museum in Taiwan.
Some years later, Tom and Kaanur, both longtime friends, decided to work together on making the cup become a reality. Hundreds of prototypes later, and with the help of peers and mentors, they arrived at their final lid-free paper cup design. Unocup maximises ease of folding for customers and baristas, spill proofing, cost-saving, manufacturability, and has a sleek modern look. 
It works much like a paper noodle box, securing its steamy contents inside a paper chamber with folding flaps at the top for safer transport. These flaps come together in a way that leaves a small spout at one end for the liquid to be sipped through, and can be easily popped open to give it some air or show off some latte art.
The team has also now taken to Kickstarter in an attempt to drum up some interest around its folding cups from both consumers and businesses who might like to stock them.
Kickstarter.com: See more about the Unocup here
Related reading:
Tags: paper cups, plastic waste solutions, take-out cups, Unocup