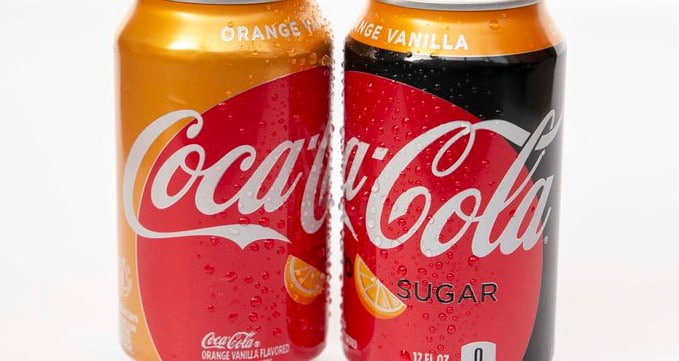 First new Coke flavour in a decade
Coca-Cola will release its first new flavours in more than a decade — Orange Vanilla Coke and Orange Vanilla Coke Zero Sugar — on February 25 in the US market.
According to Coca-Cola, it took less than a year to bring these flavours from concept to testing to launch. Company testing indicated more than half of consumers who sampled the new flavours said they would buy them in addition to Coca-Cola Classic.
Raspberry, lemon and ginger were also considered as potential flavours, but, "We wanted to bring back positive memories of carefree summer days," Kate Carpenter, brand director, Coca-Cola said in a statement.
"That's why we leaned into the orange-vanilla flavour combination — which is reminiscent of the creamy orange popsicles we grew up loving, but in a classically Coke way."
FoodDive.com insights:
Buoyed by the success of last year's Diet Coke overhaul that introduced taller, slimmer cans and four new varieties to join the original beverage, Coca-Cola is taking aim at a flavour-craving public by introducing more cola tastes into the fold.
While regular Coke got this makeover, on the Diet Coke side of the business, the Atlanta company has added Blueberry Açai and Strawberry Guava to the lineup.
Citing a desire to "satisfy a variety of changing tastes and lifestyles — and moving quickly and taking smart risks to bring more drinks to market," Coca-Cola is working diligently to reinvigorate the soda space as consumers continue to migrate away from artificial flavours and sweeteners in favour of beverages that are perceived as healthier such as tea, water, and coffee.
So far, the company's efforts to introduce new flavours onto shelves has paid off. Diet Coke's overhaul has translated into strong sales — and even growth — in a time when the entire soda category is in decline.
The soda company posted retail dollar sales growth for the last four quarters following at least five years of declines, according to Nielsen data. Part of this success is because consumers who try one of the new flavours are more likely to reach for original Cokes and purchase them as well.
Coke is not the only soda manufacturer to find success in branching out in hopes of winning over consumers. 
PepsiCo launched a limited-edition cinnamon-flavoured cola called Pepsi Fire in 2017 and this year they released a new nitro edition of their classic soda in a play to tap into consumers' love of non-alcoholic drinks and nitrogen carbonation.
While these innovations have turned the tide slightly in the favour of soda, there is still a long way to go in order to determine whether these novel flavours will keep consumers' attention.
Soda's share of the US beverage market fell from 22.1% in 2012 to 19.7% last year, according to the Beverage Marketing Corporation, and there are no signs of a complete turnaround.
Still, even stemming the tide is a big step forward for these companies. The only risk that these novel flavours present is the inherent fact that they are novel. Once consumers have moved on from the latest flavour craze, Coca-Cola may find itself back at the drawing board working to rediscover what tastes make their target demographic tick — a labour-intensive and potentially expensive proposition.
And that may prompt the company to rethink its strategy on how to lure consumers back to soda.
Source: Coca-Cola Co, FoodDive.com
Tags: Coca-Cola Original, flavour innovation, Orange Vanilla Coke, soda trends