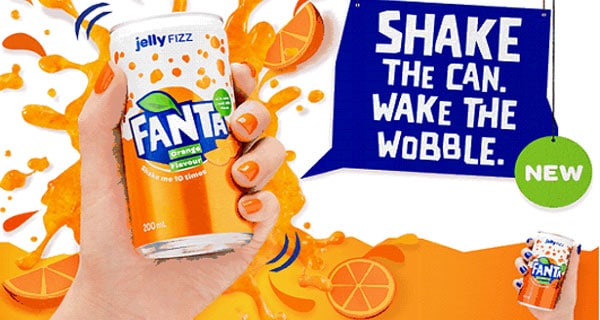 Fanta entices tweens with new textured soft drinks
Over the past year or so, Coca-Cola South Pacific has been rolling out an interesting sensory range of Fanta variants in Asian and Antipodean markets that are as much about touch, sound, sight, and smell as they are about taste.
In addition to the core range of Fanta Orange, Zero Orange, Grape, Raspberry, Blueberry, Sour Watermelon and Strawberry Sherbet, Fanta has now launched Jelly Fizz which come in both orange and raspberry flavours.
To enjoy the omnisensorial experience of Jelly Fizz, consumers need to shake the can 10 times to activate an "almost indescribable, well, jelly fizziness".
"People really love the flavours but we wanted to up the ante and bring out something totally unique and different to everything else in the soft drink category, to create new experiences for Kiwis to try when they want the occasional treat," says New Zealand's Fanta brand manager, Gina Beck.
"We talk about teens wanting 'omni sensorial' experiences, which is where they're looking for something that's going to awaken all the different types of senses. Early adopters want to experience something new and this range really delivers on this," she says.
"It's like a delicious, liquid jelly – a soft drink blended with juicy liquid jelly pieces. You can't really explain it to someone, they have to try it for themselves," says Beck.
The original Jelly Fizz concept was launched in Japan and Hong Kong about five years ago (known as Furu Furu Shaker) and the local Coca-Cola teams felt they could replicate its incredible popularity here in New Zealand [and Australia].
"The challenge has been how to Westernise the concept of what is a really cool but very different drinking experience," says Beck.
Trackback from your site.