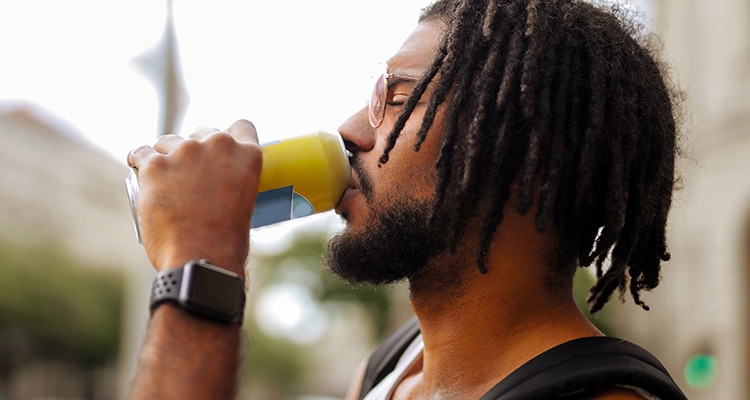 30 Jul 2020

Energy drinks on the rise in South Africa – insights from Kerry Ingredients

Today's consumer expects more from their beverage. No longer can a drink just be a thirst quencher or a quick pick-me-up. Hot tea should deliver relaxing effects while fruit juices should have an authentic, natural taste. By the same token, these higher consumer expectations extend to energy drinks.

Traditionally, energy drinks are highly caffeinated beverages, often containing herbal ingredients, that claim to boost mental alertness, stamina and athletic performance and enhance mood.

In South Africa, despite a growing list of consumer demands for the category and minimal innovation, energy drink sales have seen double digit growth over the last few years.

GlobalData research from 2018 ranked the energy drink category second in the Top 5 Best Performing Soft Drinks in South Africa by value. Meanwhile, a Mordor Intelligence report indicates a projected value growth of 10.9% CAGR and volume growth of 10.2% CAGR between 2020 and 2024. With new innovations, the category could have even greater gains.

To help spur new ideas and guide brands in or entering South Africa's energy drink market, Kerry Ingredients has collected data on growing consumer segments and key areas of opportunity.
Energy drinks energised by changing SA lifestyles
The rising affluence of South African households has resulted in a greater proportion of the population moving to urban areas; energy drinks are now regarded by many as products that complement this new, fast-paced urban lifestyle.
Reflecting global market trends, energy drinks are particularly popular among South African teens and young adults. Whether working late, studying, training or partying, consumers want an energy drink that supports their busy lifestyles and needs and still tastes great.
As the fastest-growing region in the beverages sector, the African market also continues to enjoy the relative affordability of energy drinks, which adds to the appeal.
In fact, energy drinks have transitioned from an aspirational product sold exclusively in retail outlets and service stations to finding everyday relevance.
In the busiest taxi ranks across the country, energy drinks, chips, pap and meat are the most popular morning purchases. Street vendors at traffic intersections sell the drinks directly to consumers looking for a way to power through workdays that can begin as early as 4 am.
The idea of a beverage delivering both refreshment and an energy boost — allowing people to stay alert and increase productivity for longer — has rendered energy drinks a go-to beverage of choice. And there is still plenty of room for growth.
It is estimated that about 15 million South Africans use public transport every weekday, yet the energy drink category has not reached a significant portion of this commuter market. Winning over this key working class demographic is crucial in a country where many have come to rely on energy drinks to abet long shifts at work.
Demand for new taste experiences drives fresh strategies
Multipacks, larger unit sizes and private labels have all contributed to keeping energy drink pricing down, aligning with how consumers are now shopping across retail spaces, from spaza shops to cash-and-carries.
More local manufacturers are creating value-added energy drinks, and as new product lines enter the market, we're seeing more affordable energy drinks that successfully cater to multiple price points.
Smaller "for local, by local" brands, using localised marketing and distribution strategies, have caught on with South African young adults.
As the largest consumers of energy drinks, they want moments of discovery and delight that lift a regular day. This desire for new taste experiences has consumers considering energy drinks as an alternative to traditional soft drinks.
As a social drink, it has found its way into nightclubs as a beverage mixer. Such drinks are typically branded as "a fun drink that boosts energy so that young people can party harder."
Maturing market influences energy drink innovations
Males aged between 18 and 35 who enjoy the heavily sweet taste of mainstream energy drinks have typically been the target market for energy drinks, with brands aggressively marketing "go-to-fuels" to students across university campuses.
Today, however, it is more health-conscious Millennials who make up the largest consumer segment. Their perception of energy drinks as being high in sugar and caffeine, which can raise health concerns, has the industry steering away from ingredients that are synthetic or perceived to be bad for health, towards more sophisticated offerings that go beyond an energy boost.
Energy drink formulations are now low-calorie, low-sugar and preservative-free, with claims of added electrolytes and vitamins, and the inclusion of naturally energizing ingredients such as guarana and ginseng extract.
As has been seen with similar healthy energy drinks in Europe, by addressing health and legislative concerns, these reinvented energy drinks are breathing new life into the market.
Cross-category inspiration, novel flavours and more female consumers
Aroma, texture and the presence or absence of caffeine are the main purchase drivers of these beverages. Current innovation across the beverage category is centred around health and well-being, with sugar reformulation and the broader idea of "lighter enjoyment" continuing to dominate new product development.
Within the energy drink category in South Africa, innovation is informed by the emerging consumer — specifically the relatively untapped market of female consumers who prefer a drink that is lighter with more flavour depth — as well as insights from cross-competing categories, like carbonated soft drinks, juices and vitamin-enhanced beverages.
As consumers demand beverages with unique offerings, manufacturers are experimenting with hybrid drink product lines that blur traditional categories. Examples include carbonated juice combined with tea, energy drinks with coffee, or sports drinks infused in still water.
Beyond sugar- and calorie-reduction, exciting and unexpected flavours and flavour combinations have been winning over consumers, with 24% of women and 23% of men keen to try novel flavours in soft drinks or beverages infused with new ingredients, according to a GlobalData South Africa energy drinks report.
Flavoured energy drinks have been the fastest-growing sector worldwide for a few years now. In South Africa, flavours with potential for new innovative taste profiles in beverages and energy drinks include mainstream favourites like ginger, grapefruit and lime, which deliver a more stimulating drink experience.
Blackberry, blood orange and botanicals including turmeric and basil are up and coming, while florals and fruit flavour combinations, such as vanilla rose blossoms, are also appearing frequently in beverage recipes.
Source: www.kerryafrica.com