Cucumber Sprite is now in South Africa
Sprite, the third most popular soft drink in SA (after Coca-Cola and Fanta), has launched a new flavour: cucumber.
Sprite Lemon-Lime Cucumber was first launched in Russia,  where cucumber water and cucumber lemonade are popular, last year.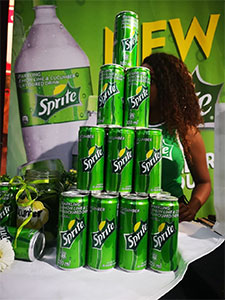 "We were inspired by our colleagues in Russia and so tested Sprite Cucumber with our South African consumers," Mukundi Munzhelele, senior brand manager of Sprite in South Africa, told Business Insider South Africa.
"They confirmed our belief that this would be an exciting product to launch in South Africa."
Business Insider South Africa tried it in their offices, and the first surprise was how strong the smell was – a glass of the stuff carried a strong whiff of fresh cucumber.
But while the smell was surprisingly authentic, their tasters were divided.
For some, the cucumber added an interesting twist to the Sprite, a much-welcome new taste to a beverage which they believe has grown boring over the years. (The original Sprite has been around since 1961.)
None of the tasters were turned off by the cucumber flavour, which is relatively strong – but a number immediately commented on an artificial sweetener taste.
In line with the introduction of the sugar tax in April this year, Coca-Cola has started to reduce the sugar content of its drinks and the new cucumber-flavoured Sprite contains both sugar and non-nutritive sweeteners: acesulfame-K and aspartame.
A 250ml glass of cucumber-flavoured contains 135 kilojoules – equal to more than two cups of actual raw cucumber.
So far, a sugar-free cucumber-flavoured Sprite hasn't been released in South Africa.
Most tasters who didn't know what the new flavour was thought it was watermelon.
Several Sprite iterations
There are many different Sprite flavours across the world. These include cranberry, cherry and tropical.
Recently, Sprite Fiber+ was launched in China – which contains 30% of daily fibre requirement.
Whether these might ever hit local shelves, Coca-Cola South Africa's Munzhelele said that "driving innovation is an important business priority".
"Whilst we can't confirm anything at the moment, we are continually reviewing what we can bring to refresh consumers in South Africa."
Sprite Lemon-Lime Cucumber is available in two-litre and 440ml bottles, as well as in a 300ml can. 
Source: Business Insider SA
Tags: Coca-Cola, cucumber flavour, Sprite