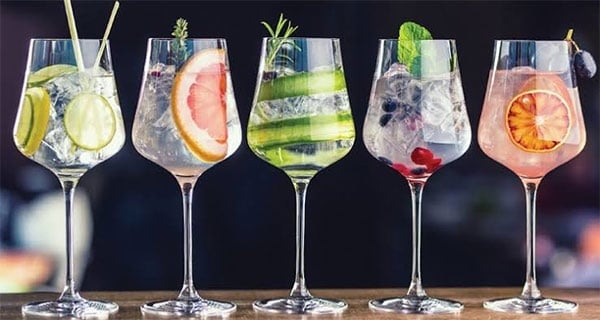 Comment: Gin boom turning to boredom?
As new gin brands are unveiled almost by the hour, we within the drinks industry could justifiably be growing somewhat tired of it all. Interesting take on the gin trend's waxing or waning…
Commentator for spirits on just-drinks.com, Richard Woodard, has these thoughts….
As social media pleas go, this, from a senior buyer at a UK-based drinks retailer, was certainly a passionate one: "What part of no more f-ing gin is unclear!!!"
… Indeed, it's hard to escape the conclusion that, in the UK at least, the trade is sick of gin. Just one problem: who's going to tell the punters?
Despite isolated hints of slowing growth, the momentum of the gin boom in the UK continues to look irresistible. Just look at the findings of William Grant & Sons' recently-released Annual UK Market Report: In 2018, gin sales jumped 45% in value terms in the country, reaching £2.4bn, or 21% of the UK spirits market.
What's more, the higher price points are outperforming, with gins priced £23-and-above per bottle growing sales by 47% over the same timescale. Continue on this trajectory and gin will overtake vodka to become the most lucrative spirits category in the UK by the end of 2020. Remarkable for a category that, not so many years ago, looked moribund.
For the trade gatekeepers, such as our overwrought and gin-fatigued buyer, that's not really the problem, though. The bandwagon is the problem.
William Grant calculates that more than 400 new gins have been launched in the UK since 2016, which means an inbox overflowing with "unmissable" new variations on juniper and "unique", hand-foraged botanicals.
However irritating, this ceaseless conveyor belt of NPD is one of the keys to the magnitude of gin's recent success. As with vodka, the lead-in time from concept to bottle is short, especially when compared to the process and maturation requirements of rivals such as whisky, brandy or dark rum.
The gin boom has also managed to maintain its early momentum by spinning at dizzying velocity on a hamster wheel of innovation and diversification, from outré botanicals to an ever-expanding range of flavours and formats.
The gin RTD, once a downmarket ghetto for mainstream brands, is now being embraced by the likes of Sipsmith and Ian Macleod Distillers' Edinburgh Gin.
William Grant's report also highlights gin's "playful" image with consumers as a crucial factor behind its success; I get that, but I'd prefer to say that gin brand owners are giving consumers what they want in terms of flavour and convenience, rather than trying to impose their own vision of that – even if I do have issues with the whole concept of 'flavoured gin', and what it might do to the category in the longer term.
We have, if you hadn't already noticed, been here before. In fact, the whole boom-meets-fatigue scenario seemed so familiar that it sent me scurrying into the just-drinks archives – where I found, covered in metaphorical e-dust, a commentary I wrote back in 2010 about vodka. Here's a summary…..
just-drinks.com: Read the full article here
Tags: gin growth, gin trends