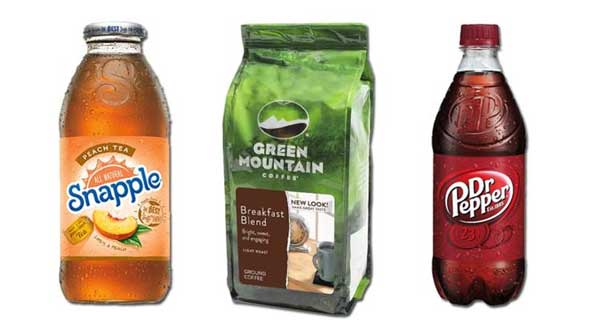 Coffee meets soda: Keurig and Dr Pepper Snapple merge to create beverage behemoth
JAB Holding Co's audacious effort to build a food-and-beverage empire, which already includes Krispy Kreme Doughnuts and Caribou Coffee, has taken a surprise turn into soft drinks.
In a merger of highly caffeinated proportions: soda purveyor Dr Pepper Snapple Group and coffee maker Keurig Green Mountain are joining forces to create a beverage behemoth with $11-billion in annual revenue.
The merger, which has been unanimously approved by Dr Pepper Snapple's board of directors, will put Dr Pepper, 7UP, Snapple, A&W, Mott's and Sunkist under the same roof as  Green Mountain Coffee Roasters, Keurig's single-serve coffee system, and more than 75 owned, licensed and "partner brands" in Keurig's universe (like Donut House, Tully's Coffee and more).
The combined company will be called Keurig Dr Pepper, or KDP.
According to the terms of the merger, Dr Pepper Snapple shareholders will receive $103.75 per share in a special cash dividend and retain 13% of the combined company.
Keurig shareholders will hold the remaining 87%, which means that private equity firm JAB Holdings — which led the investor group that took Keurig private in 2015 — will be the controlling shareholder. 
JAB said it will make an equity investment of $9-billion to help finance the deal.
Other notable shareholders include Oreo-cookie maker and global snack giant Mondelez International, which will hold a 13- to 14% stake in the newly combined beverage company thanks to an existing 24.2% stake in Keurig Green Mountain.
In a separate SEC filing of its own Monday morning, Mondelez said that it does not intend to inject any new capital in KDP.
Larry Young, Dr Pepper Snapple's president and CEO, said in a statement the merger provides Dr Pepper "the opportunity to participate in the long-term upside potential of our combined company and attract new brands and beverage categories to our platform in a fast-changing industry landscape."
Added Bob Gamgort, Keurig's CEO: "Our view of the industry through the lens of consumer needs, versus traditional manufacturer-defined segments, unlocks the opportunity to combine hot and cold beverages and create a platform to increase exposure to high-growth formats.
"The combination of Dr Pepper Snapple and Keurig will create a new scale beverage company which addresses today's consumer needs, with a powerful platform of consumer brands and an unparalleled distribution capability to reach virtually every consumer, everywhere."
Gamgort will serve as CEO of the newly-created KDP, while Ozan Dokmecioglu, current CFO of Keurig, will serve as its CFO.
The companies said that Dr Pepper Snapple CEO Young will take a role on KDP's board of directors to help with the transition. Bart Becht, partner and chairman of JAB as well as Keurig's chairman, will be chairman of the KDP board.
In addition to projecting $11-billion in annual pro-formal revenues, Keurig and Dr Pepper said they are targeting $600-million in synergies on an annualised basis by 2021 and that, at the close of the transaction, KDP will deliver an annual dividend of 60 cents per share.
The two companies also said KDP anticipates total net debt at the transaction closing to be approximately $16.6-billion; KDP anticipates maintaining an investment grade rating.
More background
JAB, which is backed by the billionaire Reimann family, has been placing increasingly bold bets on food and drink businesses. At the same time, it's shifted away from fashion holdings such as Jimmy Choo.
JAB, run by consumer-goods industry veterans Peter Harf, Bart Becht and Olivier Goudet, has transformed the fast-food and drink industries with a series of acquisitions that grew from a 2013 deal for the owner of Douwe Egberts coffee. That business was combined with Mondelez International's Jacobs coffee in 2015.
Other acquisitions included Panera Bread, the Einstein Noah Restaurant Group, Peet's Coffee & Tea, Stumptown Coffee Roasters and Au Bon Pain. 
Mondelez — the maker of Oreo cookies and Triscuit crackers — is an investor in Keurig as a result of the 2015 deal and will hold about 13 percent to 14 percent of Keurig Dr Pepper.
For Keurig, this isn't the first time the company has been tied up with Big Soda. Coca-Cola owned a 17 percent stake in the business before JAB's acquisition.
That holding had previously spurred talk that the Atlanta-based soda giant would buy Keurig outright. Coca-Cola recorded a gain of about $25.5 million on the investment when Keurig and JAB concluded their deal.
JAB's java forays have given it the nickname "the Budweiser of Coffee." As it muscles in to other parts of the beverage industry, Coke could prepare a counter-move, say analysts.
Meanwhile, JAB has moved to divest its luxury holdings. It sold stiletto-shoe maker Jimmy Choo to Michael Kors Holdings. and jacket brand Belstaff to chemical company Ineos. Shandong Ruyi Group of China is the leading bidder for Bally International, the Swiss leather-goods brand owned by JAB, according to people familiar with the situation.
Dr Pepper Snapple itself is the product of serial dealmaking, principally by Cadbury Schweppes, which bought the Dr Pepper and 7Up assets in 1995 and added Snapple in 2000.
Cadbury, the UK chocolate maker that's now owned by Mondelez, spun off the beverage assets and listed them in New York in 2008.
Sources: Reuters, Bloomberg, Forbes
Trackback from your site.