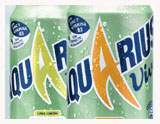 Coca-Cola turns to baobab in new low cal soft drink brand
The Aquarius Vive brand has been developed for the Spanish market, where it was launched last month. Aquarius Vive includes zinc, vitamin B3 and baobab extract; and is marketed as a low calorie beverage.
Baobab is an ingredient that comes from the African baobab tree, commonly known as the 'tree of life' or 'bottle tree' as it can live for 4,000 years and contains thousands of litres of water.
Interest in the exotic African 'superfruit' has been growing in recent years, including as an ingredient for beverages such as flavoured waters, smoothies, juices and sparkling beverages.
The Aquarius Vive brand promotes the inclusion of baobab extract on the front of the can. Although baobab fans tout the nutritional properties of the ingredient, a Coca-Cola spokesperson told BeverageDaily that the brand is focusing on the exotic and refreshing aspects in the brand.
"We wanted to have an exotic ingredient which could give new news in the product proposition, a differentiation versus other beverages in market, and finish up our positioning as a beverage which fits in healthy and active lifestyle for everyone."
The Aquarius sports drink brand was launched in 1992, followed by Aquarius Zero.
Aquarius Vive, which is the first to use baobab extract and took two years to develop, comes in two flavours: Lema Limon and Tropical.
Coca-Cola says that, depending on the reception in Spain, Aquarius Vive could be rolled out to other markets globally.
Source: BeverageDaily.com
Trackback from your site.