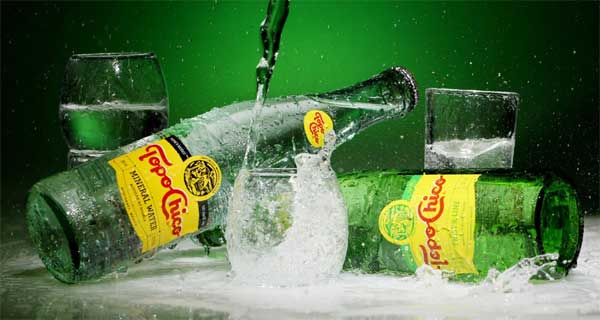 Coca-Cola buys Mexican cult-favourite sparkling water brand Topo Chico
Coca-Cola is buying Topo Chico, the Mexican mineral water brand that has grown a cult following among Texas' hip beverage connoisseurs, and adding to its inventory of premium, healthier brands.
A press release from Topo Chico's Monterrey, Mexico-based parent company, Arca Continental – already the second largest Coke bottler in Latin America – said The Coca-Cola Company bought the rights to the brand in the US for $220-million.
The deal was made through the American beverage giant's Venturing & Emerging Brands unit, which aims to grow a portfolio of "smaller, high-value brands" that don't make soda, like Honest Tea and ZICO coconut water, according to Coca-Cola's website.
The unit's vice president overseeing emerging brands and incubation, Matt Hughes, said in a post on the site that Topo Chico was a way of building Coca-Cola's premium sparkling water offerings as soda drinkers seek out healthier alternatives, spurring what observers have described as massive growth in the category.
Nationally, more than $2.3-billion worth of bottled sparkling water is sold every year, according to sales data from Chicago-based consumer market researcher, Information Resources. 
"As we accelerate our evolution to a total beverage company, we're investing in brands that are on trend," Hughes said. "Topo Chico is a fast-growing brand with a lot of passion behind it and growth runway ahead."
The vast majority of Topo Chico's US sales are in Texas — about 70 percent, according to Hughes, who specifically cited Topo Chico's popularity in the Lone Star State as eye-catching for Coca-Cola.
The mineral water, he said, "has proven itself in a significant market."
Most likely, Coke's ownership will transform Topo Chico into a brand that is available in far more places.
Topo Chico has been bottled at the same plant in Monterrey, Mexico, for the past 120 years. Its fans describe it as less salty than Italian bottled water giant San Pellegrino, but it's still flavorful enough to stand on its own, or with a spritz of lime juice. Some drinkers swear by it as a hangover cure.
The brand's glass bottles and retro logo have also helped position Topo Chico at the nexus of several major beverage trends: Millennial drinkers who chase artisanal – and photogenic – products and a resurgence by older sparkling water brands.
Topo Chico comes primarily in plain and lime flavours, and it is sold in glass bottles that are ubiquitous at markets that serve Latino customers.
More recently, however, it has been packaged in plastic bottles, both 20 ounce and one-litre size, and sold by big retailers such Walmart. And, it has been pushing beyond its traditional market in Texas.
Data from IRI compiled by BevNet, an industry publication that tracks beverage trends, showed that store brand seltzer waters grew their sales by 12.1 percent over the year that ended in November. 
They were, collectively, the top sellers of seltzer, followed by Sparkling Ice, La Croix and Perrier, which is owned by Nestle. In 1992, the Swiss food company won control of Perrier for what was then $2.7-billion, according to a New York Times report. 
Still, both Coca-Cola and Arca Continental officials emphasized that they plan to be careful to, as Hughes put it, "honor and respect" Topo Chico's century of heritage, rather than scale up immediately. 
Hughes said that Topo Chico's "legacy team" will join Coca-Cola's VEB unit but remain based in Texas.
"We are going to thoughtfully expand the brand's geographic presence — to create more 'Texases,'" he said. "We're currently designing our supply chain, distribution and marketing capabilities to meet what we know will be an exciting and increasing demand for the brand."
Coca-Cola's VEB unit, executives said, acts as an incubator for its brands, helping to figure out ways to expand their availability without sacrificing whatever qualities have made them popular.
"We will continue to bottle Topo Chico Mineral Water with the highest quality standards at the original plant in Monterrey where it has been produced for over 120 years, reinforcing the alliance between our two companies," Francisco Garza Egloff, CEO of Arca Continental, one of the largest bottlers for Coca-Cola in Latin America. 
The acquisition marks a full circle for Topo Chico; the brand's parent company was the first to bottle Coke outside the United States through a deal struck in the 1920s.
Source: www.dallasnews.com; Fortune.com
Trackback from your site.